Unisocial Event in Harlem
A Few Days After Thanksgiving Unisocial Volunteers Hit the Streets in a NYC Neighborhood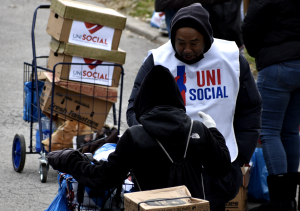 On November 27, 2021, a major social action was carried out by 210 UniSocial volunteers that assisted the residents of a Harlem community in New York. It was announced in shelters, on the streets, and those in need were called to benefit from the social event.
With the help of the Food Bank 480 boxes of Food and 620 bags of loaves of bread. Around 200 pieces of clothing were donated. In addition, each person received a loaf of bread. The bread was meant to shed a light on the recent situation many find themselves in. The members of the Universal Church prepared 6 large pots of soup and clothing as well.
Many have lost so much because of the pandemic and even before this, dinging food to eat was a difficulty. Bishop Joshua explained that "The Lord Jesus in His prayer, taught us to pray. To say,' give us this day our daily bread.' And you know what? Bread is not that expensive, but in this time of hunger, poverty, scarcity, and crisis, even bread for some people is very rare. They cannot even afford bread…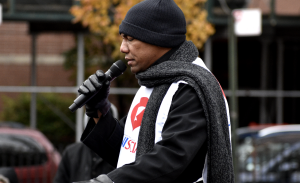 Today we are distributing food, bread, clothing, but above all, prayers and spiritual support because this bread will finish, the food will also finish, the food will also finish, but the Word of God never ever finished."
Crowds lined up to receive boxes of food, racks of clothing were also available to those who attended, to keep warm this winter. Children accompanied their parents, carts and bags were brought out to receive donations. Even more than this, a word of faith was received. Pastors and their wives made themselves available for spiritual counseling and prayer.
For more Information about the Unisocial call 1-888-691-2291.
---