At the age of 14, he started drinking to make friends with his colleagues. "I felt very empty and the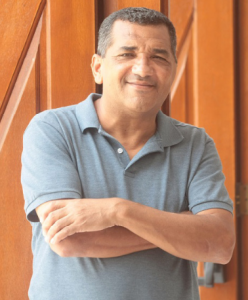 alcohol made me happy and made me feel like my colleagues." He was also unable to relate to anyone. But when he drank, he felt less shy. "It was easier to get a girlfriend because I became more expressive and became popular." Time passed and Vilmar saw that every difficult situation that appeared was a reason for him to drink. Gradually, he became addicted. "I was at the bar all day since 9 am. My daughters were ashamed of me." Gradually, other problems emerged, such as the fact of losing some jobs.
"There were days that I didn't go to work; others, he drank at work, and their the income was not good." At home, fights were constant. "I was always smelling like alcohol." But one day he understood that this cycle kept getting worse and only masked his problems. So he turned to God. "I was sitting drunk in a gutter when a lady gave me a copy of the Universal News for me to read. Then, I went to the Universal Church, attended the services for deliverance, and got cured." Vilmar has not been drinking for two years.
"I understood that it is necessary to address the root of the problem, to seek God's help to resolve the situations and not fall into these pitfalls of the mind."
Every Friday at every Universal Church the strong prayer for deliverance. Call us to find a Universal Church near you: 1-888-332-4141