"Voices Told Me To Kill Myself"
Luana's Story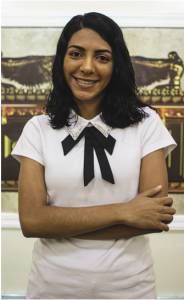 Luana says that she spent her adolescence having symptoms that no doctor could find the cause of. "At bedtime, my nightmare would begin. I heard voices that told me to kill myself. I also saw shadows and heard the noise of someone turning on the shower, even when there was no one in the bathroom," she recalls.
Not knowing what to do, Luana sought specialized therapy but couldn't find a solution.
"Everyday I would get worst. I woke up at dawn with the feeling of being suffocated. That would make me loset my peace and walked down the streets in fear. At school, I could not understand what the teacher taught. My mother worked then, and I often preferred staying on the streets for fear of entering the house."
Upon seeing Luana's despair, a neighbor told her mother about the Universal Church.
"We agreed to go without thinking twice. I started to make the prayer chains for deliverance and obey the guidance. Jesus set me free. The space where the evil spiritual forces acted gave way to the Holy Spirit. It is He who fills me and protects me from all evil.
"Today, I am free. I sleep well and I no longer hear voices that tell me to kill myself or see figures. I am pleased", concludes Luana.
If you'd like to speak with a pastor for prayer and guidance, come visit The Universal Church near you, open 7 days a week. Click here for locations. Feel free to call our helpline 1-888-332-4141.
---