NYC Wedding Celebration 2023
On Thursday, June 8th, 2023, at 7 PM, 57 Couples Joined Our Heartwarming Wedding Celebration 2023 to Renew Their Vows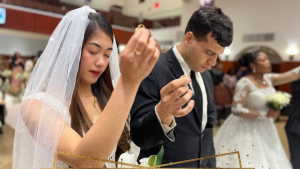 On Thursday, June 8th, 2023, at 7 PM, 57 couples joined our heartwarming Wedding Celebration 2023 to renew their vows. The event occurred at our church's national headquarters at 1091 Fulton St., Brooklyn, NY 11238.
These couples reaffirmed their commitment to one another on the sacred altar of God, creating a memorable and joyous occasion for all. Each couple, dressed in elegant attire, walked down the aisle, guided by their love and commitment to one another. The altar stood as a symbol of their shared journey and devotion.
As part of the ceremony, the couples exchanged new rings to symbolize their renewed commitment. These rings represented the unbreakable bond they shared, a circle without end.
"So they are no longer two, but one flesh. Therefore what God has joined together, let no one separate." (Matthew 19:6)
Bishop Joshua Fonseca shared a word of faith with all who attended. As well as pray to bless the love lives of all married couples, singles, and those dating. The Wedding Celebration 2023 was a day filled with joy and unity, and it left a mark on all who attended.
We extend a special invitation to invite all to participate in our Therapy of Love service on Thursdays. You'll learn how to obtain a blessed marriage and family through faith in the Word of God. Join us Thursdays at 7 PM at a Universal Church near you.