Warm Meals and the Word of Life
UniSocial Provides Food For the Body and the Soul in Events Across the Country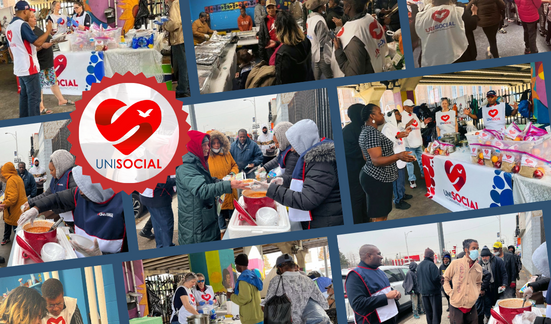 Warm Meals and Encouragement in Difficult Times
The holiday season can be difficult for many who lack shelter, food, and basic needs. With the distance from family, the harshness of everyday problems, and the coldness one finds in other people, many feel lonely and believe they are forgotten by people and God. However, that is not the truth. God sees their pain and counts on His servants to reach those suffering.
The Word of God says, "Blessed is he who considers the poor…" (Psalm 41:1). With this consciousness in mind, volunteers of the UniSocial Project of The Universal Church have reached out to communities in need. The purpose is to provide temporary comfort in the form of food and long-lasting comfort through the word of God and prayer.
Reaching Out to Those in Need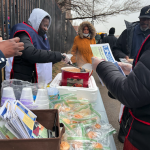 On December 22nd, in Detroit, Michigan, UniSocial volunteers prepared and served hot soup. Sixty people received a warm meal and a church newsletter with words of faith and encouragement. According to Feeding America, only in the state of Michigan 1 in 9 people faces hunger.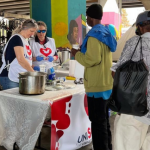 On December 10th, in New Orleans, LA, volunteers set up a station under the bridge by the central city. They provided sandwiches, hot rice and beans, coffee, hot chocolate, fruits, and water. A way of showing God's love to the community. Volunteers distributed newsletters with real-life testimonies to help awaken the faith of those being assisted. A staggering 1 in 7 people in Louisiana faces hunger.
A Hungry Body and a Hungry Soul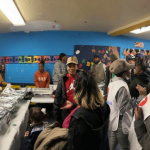 Even more worrying are the recent findings of a poll conducted by Change Research, which estimates that 1 in 3 Brooklyn, NY, residents face food insecurity. On November 22nd, UniSocial volunteers hosted an event for the community in Brooklyn, NY.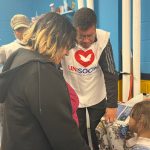 The event assisted 100 people with a warm meal, non-perishable food, sanitizing materials, and, most importantly, one-on-one counseling and prayers. One cannot underestimate the benefits of a listening ear and a word of faith. According to the American Academy of Pediatrics, approximately 5 in every 10 mothers who see their school-aged children experience hunger are more prone to develop severe depression.
The UniSocial understands that feeding the body is not enough and that one must also provide for the soul. God's Word provides the strength the person needs to overcome their problems and anxieties.
To learn more about the UniSocial projects and events in your area, you may visit The Universal Church and speak with the pastor. Click here for a list of our current locations. You may also contact us by calling 1-888-332-4141.