The UBB Honors the Memory of Officer Vidal Lopez
The Universal Beyond Bars (UBB) honors the memory of Senior Officer Vidal Lopez, who assisted in connecting the UBB ministry to the Police and Clergy Alliance and the Harris County Jail in Houston, TX. Senior Officer Lopez passed away on December 12, 2022.
Obituary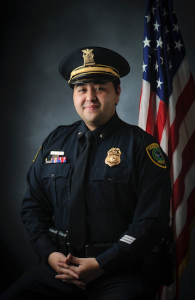 Vidal Abel Lopez was born in Houston, Texas, on November 9, 1980. He married Maritza Barrueta Lopez on June 14, 2014, and they were married for 8 and 1/2 years. They had known each other for about 12 years.
Vidal loved to travel and was adventurous. He also had a great love of learning. Vidal dedicated 20 years of his life to the City of Houston, serving as a police officer. He was a faithful member of The Universal Church and was constantly involved in outreach activities within the community. He helped establish the prison ministry and was proud of this work. More importantly, Vidal had a heart of gold. He always lent a helping hand out to those in need. Even beyond death, Vidal is still helping others. He not only was an organ donor but also donated his tissue. Above being an amazing husband, son, brother, cousin, nephew, and friend, he was a God-fearing man. Vidal had a special way of impacting everyone who crossed paths with him.
Vidal is survived by his wife, Maritza Lopez; his unborn daughter Emma Lopez; his father, Adalberto Lopez, his mother, Teresa Raquel Lopez; and his older brother Adalberto Lopez Jr. and younger brother Hector Lopez.
A funeral service for Vidal will be held Monday, December 19, 2022, from 10:00 AM to 12:00 PM at Iglesia Universal (The Universal Church), 6115 Southwest Fwy, Houston, Texas 77057.