Day With Moms UBB Event
A Group of Inmates of the O.L Luther Unit in Texas, Celebrated Mother's Day Alongside Their Mothers on Saturday, May 27th, 2023.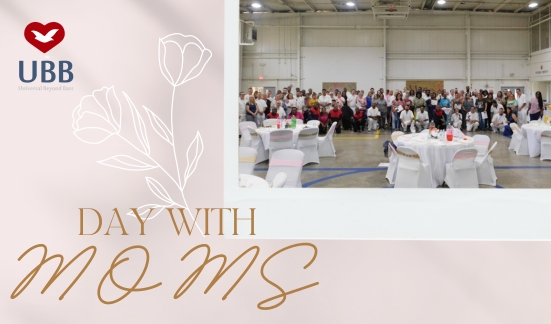 "Honor your father and your mother, that your days may be long in the land which the Lord your God is giving you." (Exodus 20:12)
How has Mother's Day been for many mothers who have a son or daughter in prison? Unfortunately, for many of these mothers, it's a day of sadness since they're unable to be together with their children.
With this in mind, the sponsors of the UBB worked diligently to sponsor several inmates of the O.L. Luther Unit in Texas. UBB stands for Universal Beyond Bars, created by The Universal Church to help inmates and their families.
For the first time, UBB hosted Day With Moms Event, where inmates & their mothers gathered on Saturday, May 27th, 2023, for a moment of togetherness. All the volunteers of the UBB & staff of the Luther Unit came together to decorate the gymnasium in which the Day With Moms Event took place. There was catered food, drinks & cake was given to all the inmates & mothers. They had an opportunity to dance, give gifts to their mothers & spend quality time together.
One of the volunteers from the UBB spoke out about her experience, she expressed," It was a blessing to see grown men turn into 2-year-olds when they saw their moms! They ran & hugged their moms like children who hadn't seen their moms in a long time. Seeing this type of pure love was beautiful."
If you'd like to sponsor this ministry & or become a volunteer of the UBB. Call 1-888-691-2291 for more information on how you can help UBB Sponsor more events similar to Day With Moms Event.