The First Universal Church inside U.S. Prison

2

min read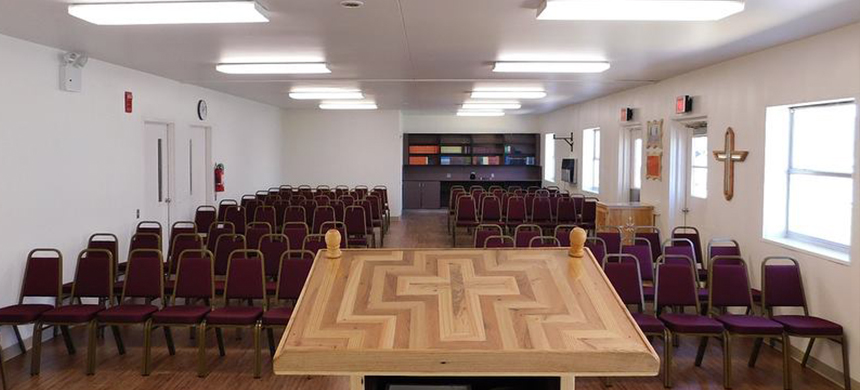 May 4, 2018, was a groundbreaking moment for the Universal Beyond Bars group (UBB) in Texas. Pastors that are in charge of the UBB group in Houston, Texas rejoice this morning with the Grand Opening of the first Universal Church ever built inside a prison in the U.S. It is a true stepping-stone to reach those who seek spiritual help yet are behind bars.
The UBB is one of the many outreach programs of The Universal Church (TUC). It is currently being established in 15 states and active in over 50 countries around the globe. With a short amount of time in Texas, the UBB has done an amazing work and is truly expanding. Not only does it bring joy in Texas but all over the U.S to know that the Universal Church is indeed reaching out beyond bars.
"This is what your seed and offerings do" – Bishop Bira
In Texas, Pastor Quincy Leith and many other Pastors are in charge of making weekly visits to different facilities. Through the UBB project, several inmates have been released or had their sentences reduced due to positive behavior. Whether they are ex-prisoners or staff working inside of the prison, they can definitely tell a difference between the UBB project to other programs. The prisoners have also been introduced to the IntelliMen project – A group created for men to realize their potential. Dozens of prisoners have been evangelized and still counting.
Though many groups with time stop going to jails in Texas, the UBB stays consistent with their meetings and quitting is not an option. No matter where Gods work will not stop! The inmates in a facility in Brazoria, Texas, had the opportunity to be inaugurating the first Universal church in prison.
The new home of faith has brought the prisoners great joy, that they also contributed to the construction of the church by building the podium. A podium that will serve to share the word of God.
Stay tuned for upcoming news of this new home of faith. Do you have a family member in prison? They too can send their prayer request to Bishop Bira by sending a letter and addressing it to :
The Universal Church
7075 Southwest Fwy, Houston, TX 77074
[embedyt] https://www.youtube.com/watch?v=7eN7izKekek[/embedyt]