Let's Paint!

1

min read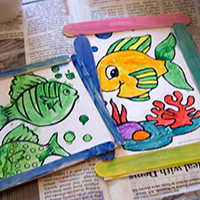 Let's Paint!
The Ronald McDonald House Charities have been helping families for more than 30 years. They have given many families the opportunity to stay close to their hospitalized child at little to no cost. Once there, parents can also communicate better with their child's medical team.
A team of volunteers with the UNISocial group visited their installations on Saturday, September 9th. They spent one on one time with the children while sharing plenty of laughs and smiles.
As the music played, everyone created a colorful picture frame with popsicle sticks and paint! Not only did the children share their creative side but also some dancing moves. Our goal was to bring smiles to everyone present, so it's fair to say mission accomplished!
The Universal Church is actively seeking to change people's lives. It is its goal to provide support and encouragement to overcome suffering and to save souls.
If you would like to be part of the UNISocial Group, contact any of our pastors at your nearest branch of The Universal Church.