Resolve the confusion in your love life and family

4

min read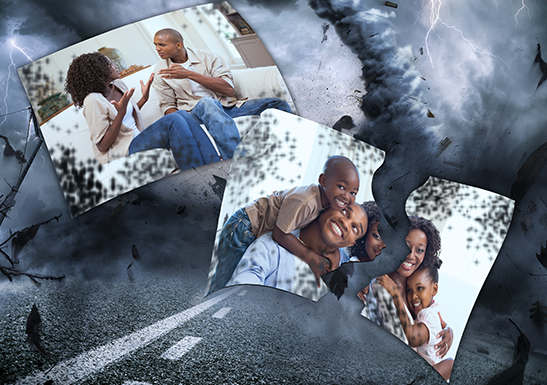 Many people saw confusion entering their relationships. Everything was running smoothly, and from the moment that confusion came about, things turned upside down. Since then, the couple has not been able to recover from the situation.
Many times, the couple can pinpoint the moment in which that confusion entered their relationship and family: a comment, an incident, something that happened that made them lose their ground. Perhaps a third person, an inappropriate cell phone message, a new job, a new town, or situations shook the stability of this relationship and family. This confusion might have gotten you to the point of not knowing if you want to fight for your relationship or let go of it. If your home has been filled with arguments every day, and you are tired of this situation, we are going to help you to overcome this problem.
It is very easy to identify the mistakes of other people, especially of husbands, wives, boyfriends, and girlfriends. However, to see a change in our relationship and family, first, we must identify our own mistakes. Sometimes, the problem in the marriage is not that the husband is working too much but in him not saying to his wife, "Listen, I recognize that I could give more time to you." Pride has not allowed couples to solve their marriage problems. You need to work together as a team with common goals in mind and the ability to sacrifice your pride for the sake of the relationship.
What is your aim? You as a couple, as a family, need to have this clear in your minds. Being in doubt, confused, without knowing what's the next step to take has been a problem that has tormented the lives of many people. The lack of communication, the interference of others, the influence of toxic friendships, or the lack of trust and confidence in the relationship cause the thoughts to become disorganized and the doubts to take over. Without goals, you can't move forward and develop in life because you are not looking at a target and understanding that to get there you need to take certain steps. You need to inspire your spouse to fight and reach the goal you both have as a couple.
(Based on advice given by Renato and Cris Cardoso – relationship experts and family counselors)
"After 13 years of marriage, my husband asked for a divorce."
"I decided then that I was going to leave the country." (Miriam)
"I thought that I just had to provide the material things for my family. We did not communicate and went up to 6 months without any physical contact." (Emerson)
"He returned, hugged me and asked for forgiveness. He was unemployed, sick and had stopped taking care of himself. I knew he was going to have a surgery, so I told him, "I will take care of you, you will get better, get a job, and then I want you to leave." My friend invited me to the Love Therapy. We decided to go, still hesitant. There, I understood that he wasn't the only one that was wrong and needed to change. He had the surgery and spent 45 days in bed. I continued attending; we read the Bulletproof Marriage book together, and we began to change." (Miriam)
"Today, I am more attentive, affectionate, and I give priority to her. Today, I give of myself to her. We talk to each other and send each other messages. Everything changed. These meetings brought maturity and wisdom into our relationship." (Emerson)
Learn to rebuild your love life and family. Receive this help and guidance and see the difference in you and your home. Join us on Thursdays for the Love Therapy for singles and couples to learn to love intelligently and become a positive influence for their loved ones. On Sunday mornings, we unite and pray strongly for the families. We will help you to resolve this confusion that has affected your life. You will learn to put an end to all confusion in your love life and family.
Help is at hand, contact us or visit The Universal Church near you counseling.