Bishop Macedo holds a special meeting in Argentina

2

min read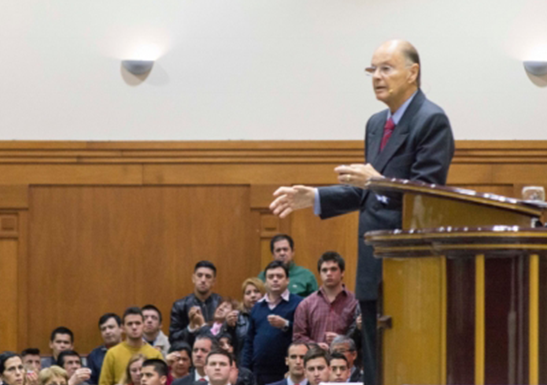 On the second of October, Bishop Edir Macedo went on a missionary trip to Buenos Aires, Argentina, where he ministered a special meeting early in the morning with 4.2 thousand attendees. The event was also transmitted via video conference to more than 270 locations of The Universal Church in the country.
During the meeting, Bishop Macedo emphasized that only the Word of God can restore one's life. The Spirit of God is the only One Who satisfies the soul, but for this to happen, it is necessary to have sincerity before God. The Biblical parable in the book of Luke (18:10) reveals two types of people: the Pharisee and the Publican. The Pharisee is a religious man that thinks he is righteous before God and deserving of His blessings. The Publican is a sinner who recognizes himself as such but is sincere by acknowledging his need for change.
After the message of faith, all those present were invited to make a covenant with God and to participate in the Lord's Supper – the most important ceremony for Christians.
Aggressive faith
The bishop also determined the deliverance, peace, and outpouring of the Holy Spirit upon all the participants and revealed the secret to achieving the promises of God: an aggressive faith that charges of God the fulfillment of what is written in His Word.
Yanina Góngora (in the picture) from the city of Mar del Plata has been attending The Universal Church for the past three weeks. She shares her experience during this event of faith: "There was a void in me that nothing could satisfy. The words of Bishop Macedo reached to me in such a way that I decided to abandon the drugs, alcohol, bad friendships and end a relationship that was contrary to the will of God. At the moment in which the bishop led us to prove the Word of God, I made the decision to baptize in water. I am now another Yanina."
Rocio Romero, from Santa Fe, also shared her experience. "When the bishop asked us to put the Word of God to the test, I picked up the Bible and told God that if He wanted me as His servant, for Him to give me His Spirit at that moment because it is written that those who ask, receive. And, I was baptized with the Holy Spirit. It was the first time in 3 years that I came out of the church with the certainty that God is in me."
Bishop Djalma Bezerra, responsible for the work of The Universal Church in Argentina also ministered healing prayers for the families.
Check bellow the pictures of this event of faith: