The Universal church in Madagascar united together thousands of people for concentrations

2

min read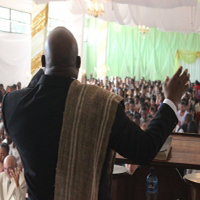 The Island of Madagascar is located on the east coast of Africa and is considered the fourth largest island in the world. Despite being remote, it began to be inhabited by people for the past two thousand years, what is seen as recent for the history of humanity.
Despite the natural beauty, recently, Madagascar was considered the 15th poorest country in the world, by the ranking published by the magazine specializing in Finance, Global Finance Magazine. A Malagasy, what the natives of this Country are called, earn on average US$1 per day, with 70% of the country's population below the poverty line and nearly half of children under five years old suffering from malnutrition.
With an evangelistic outreach developed for 39 years in various places around the world, the Universal Church has been fighting to take millions of people out of a critical situation and to live a new life with God.
years ago, the Universal Church settled in Madagascar and, since then, thousands of people have had their lives transformed through the power of faith. This was the case of Mr. Tovo Harisoa, that, before reaching the Universal Church, saw misery with his own eyes. "I lived in total poverty, and I wondered if one day I would come out of that situation and become successful. I was so poor that to survive I had to collect bones and resell them just to be able to have something to eat. When I got married, the situation has worsened. But, when I found out about the work of the church, everything changed. I have received many teachings and proved myself to God by the use of my faith. Today, my life changed completely, I have my own business a car, and a large piece of land," he testified.
A caravan of miracles
many other changes happened during the caravan of miracles, which, since the beginning of 2016, has traveled to 6 provinces of the island and helped thousands of people.
The regions of Tana, Antsirabe, Tamatave, Majanga, Toamasina and Fianarantsoa were visited by Pastor Miguel Mafumisse, responsible for evangelistic outreach in the country, which, during the concentrations, explained to those present the significance of the greatest miracle that can exist in a person's life.
" He who believes and is baptized will be saved, but he who does not believe will be condemned. And these signs will follow those who believe…" Mark 16:16-17
"The greatest miracle that we receive is salvation, which is confirmed by the baptism with the Holy Spirit," he explained.
And he continued: "This year, Madagascar has been ranked as one of the poorest countries in the world, and that poverty is visible everywhere, but I believe that it will cease to be poor, and become an emerging country," he said.