2nd Conference for Mothers and Daughters

2

min read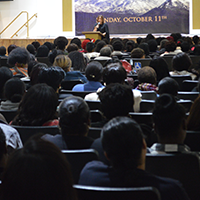 The Second Conference for Mothers and Daughters was held on September 27th by the Godllywood group in New York. Participants left with more than sound advice; they left with the tools to bless their families.
In the first meeting, participants learned that many mother-daughter relationships suffer because of lack of understanding. Many mothers live with the expectation that their daughters should know what they learned in their youth, or they attempt to raise their children in the same way they were raised; they give from what they received. However, because of the differences in today's culture and society, the message doesn't get across and problems arise.
Mothers also learned the power their words and actions have in the lives of their children, and that they need to adapt to the current times and learn to give the guidance, love and protection their children need from them. They can have this love and guidance from the Holy Spirit, Who will supply what they lack and teach them to be better parents.
In the second conference, both mothers and daughters learned that in order to have a successful mother-daughter relationship, there needs to be an understanding of each other's actions and behaviors, and most importantly, an understanding of each other as a person.
Participants learned about many common mistakes that are made by mothers and daughters, actions which end up hurting the relationship: a daughter thinking she knows it all ignores her mother's advice, a mother tries to make her daughter feel bad about what she did, a daughter doesn't take time to show her mother that she appreciates her, and many more examples.
On this day, mothers and daughters learned how to avoid these mistakes and, consequently, the high negative cost that these bring to their families.
The conference ended with a prayer, because with the Holy Spirit we find the balance and the discipline we need to take care of our families. The change you want to see in your home begins in you.
Want to improve the relationship with your children? Take action! Join us for our next Mothers in Prayer. Mothers and grandmothers unite to bless their children every Sunday at The Universal Church. Mothers in Prayer is a project of Godllywood – a group formed by women of God who are inspired and focused in helping other women. Godllywood has projects, events and conferences every year that are fully dedicated to women. All projects and events together reach out to women from all walks of life.
Feel free to contact us for more information.