Leaving it all behind

2

min read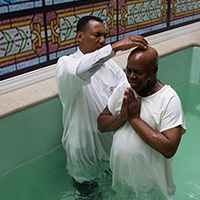 The decision a person makes to be baptized must solely be their own; it cannot come from anyone else's opinion or belief. This is because this choice is very important in a person's life. Being baptized is choosing to die for the old life. Spiritually speaking, a person is dying for his old self, his bad habits, wrong attitudes and desires, leaving behind a life of sin in order to have a new life.
One of the amazing things about this process is that it applies to everyone who is sincere. No matter a person's background, if they acknowledge that they are living in sin, if they truly desire to change and are ready to leave their old self behind, their baptism in water is effective immediately.
On the contrary, a person who wishes to be baptized but has no plans of letting go of the wrong lifestyle is simply taking a bath. Their immersion in water becomes just a dip in a pool and will have no spiritual benefit. You may even ask how can I let go of things that I have been doing for years? Of course, it is not easy; temptations and problems will come to a person who makes the decision to be baptized in water, just as it comes to everyone else. This action does not shield anyone from the world, but it separates them from it. Those who are baptized are choosing to turn their lives over to God and leave their sinful nature behind.
It is not unusual for some to wait until they are older or even sick to give their lives to God, but if we look at the world today, we see that not many receive a warning when death comes to their door. There are so many accidents and random acts of violence that leave many dead, and it is not guaranteed that there will be an opportunity to repent and be saved. The thief who was on the cross with Jesus was saved in just a few minutes after acknowledging Him as Lord and Savior, but will you have those same few minutes?
On Sunday, August 23rd there was a great water baptism in The Universal Church nationwide. Those who were ready to give their lives to God took their first step.
Visit your local branch of The Universal Church today and speak with the Pastor about the baptism in water.
If this article has helped you, share it with a friend.