ULE: NYPD Receives Bible
The ULE Gave a Group of Police Officers From Brooklyn, New York, Copies of the New Edition of the Holy Bible With Bishop Edir Macedo's Annotations.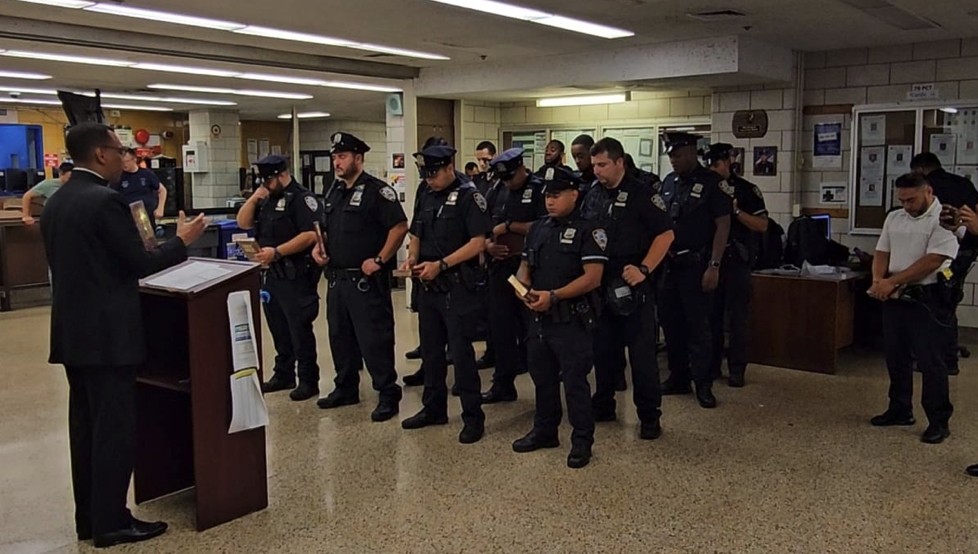 The Universal in Law Enforcement (ULE), which aims to provide spiritual and social assistance to the members of law enforcement, organized a special event. The ULE gave a group of police officers from Brooklyn, New York, copies of the new edition of the Holy Bible with Bishop Edir Macedo's annotations.
Along with the spiritual food, the officers also received a hearty breakfast. There were about 30 police officers who participated in this special gathering.
Police Station 79
Bishop Bira Joshua, responsible for The Universal Church's work in English in the United States, went to Police Station 79 in Brooklyn to pray for the police officers.
"You have a weapon, military vest, and all the training to protect yourself from danger. But the most important protection arises when we meditate and obey the Word of God. There's no point in having all the training in the world. If you don't have God in first place," Bishop Bira Joshua told the police officers.
"​​All Scripture is given by inspiration of God, and is profitable for doctrine, for reproof, for correction, for instruction in righteousness, that the man of God may be complete, thoroughly equipped for every good work." (2 Timothy 3:16-17)
The police officers were also able to receive counseling with the ULE volunteers. "There is a shortage of police officers working in New York City due to the large number of citizens. Many end up working two or three days non-stop without returning home. These long work hours cause the police officers to be stressed and eat unhealthy. Therefore, they receive the ULE's work with great gratitude and joy. This makes a big difference on their day," commented the head of the New York ULE, Pastor Rafael Costa.
If you'd like to participate in The Universal in Law Enforcement (ULE), join The Universal Church nearest you. To donate a Bible, call 1-888-691-2291.