I was always upset or sad because of depression, and the problems brought me down; I would fight my children, and was not showing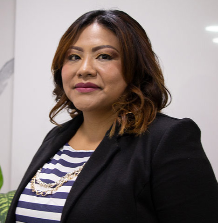 them love. Every difficult situation made me think that I wasn't worth a penny. I thought dying could be the solution. However, I received an invitation from the Universal Church, and that's when everything changed.
Through faith and prayers, the sadness disap- peared. And I learned that being faithful to God could open doors for me, and when I did, I got a job. I wanted to see more of the power of God, and there was a challenge of faith to receive the Holy Spirit; I had heard that only when God dwells within you, the void of the soul goes away, and the joy that doesn't go away arrives.
At the Altar, I gave my character, pride, everything that had defined me before, and God gave me an answer. I feel complete, happy and I have love, and my children can see it. My transformation is noticed; people who know me say that they see that I am different, and that I transmit happiness. You would tell those who identify with my story that God can help them; they need to get closer to Him. Taking a challenge of faith with God is the opportunity to have a transformed life. – Yeni Blas