Life: A Credit Card with a Balance Due
On Wednesday, June 14th, 2023 After the Night of Revival With Bishop Edir Macedo. Bishop Celso Junior, Ypg Coordinator Worldwide, Gathered the Youths of Ypg Texas to Orient Them About Decisions.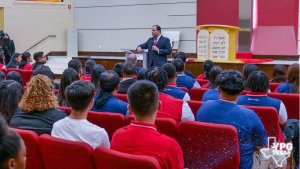 On Wednesday, June 14th, 2023 after the Night of Revival with Bishop Edir Macedo. Bishop Celso Junior, YPG Coordinator Worldwide, gathered the youths of YPG Texas to orient them about decisions. Bishop Celso Junior mentioned life decisions are similar to a credit card with a balance due.
Life is a complex journey, full of choices and decisions. Bishop Celso Junior compared it to a credit card, where we have the freedom to make decisions, but must always be mindful of the consequences they carry. Just like a credit card bill that eventually arrives, life presents us with a balance due for the decisions we make today. Therefore, it is crucial to approach our choices with care and consideration.
Bishop Celso Junior shared the below Bible verse with the youths of YPG Texas.

"Rejoice, O young man, in your youth, and in your early years may your heart do you good; walk in the path of your heart and the desire of your eyes; but know that in all these things God will bring you into judgment." (Ecclesiastes 11:9)
Every choice we make in life has consequences. Some decisions may bring immediate joy, while others may lead to long-term repercussions. Just as we must repay the balance on a credit card, life demands that we face the consequences of our actions. Whether they are positive or negative, we cannot escape the outcome of our choices.
Join the YPG Sundays at 1 PM at any Universal Church near you. Call 1-888-332-4141 for more information.