Being locked in a dark room was the only way out that Anderson could find. For a long time his life was marked by depression and family problems.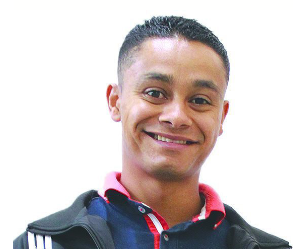 "My family was destroyed because of my father's addiction to alcohol and drugs. One day, he threw my mother out of the house with only her clothes with her." Witnessing this situation led him to have many traumas and a great emptiness inside him. In addition, he saw shadows, heard voices, did not eat properly and saw no reason to continue living. "Many times I thought about taking my own life. Throwing myself in front of a truck seemed like the solution."
He remembers that he resorted to clubs and addictions to try to fill the void. "My love life was frustrated, I couldn't be happy in love, so I had an inferiority complex." He received an invitation to go to a meeting at the Universal Church but was resistant. "I resisted a lot because of what they said about the Church. But, because of my situation and I no longer had anyone to turn to, I decided to go."
The first day he went to Universal, the chain of prayer for deliverance took place. In it, he heard that this was his last door. "One word changed everything. The pastor said that whoever had their lives destroyed and suffering should go to the Altar and I went. It seemed like he knew what I was going through."
When Anderson decided to obey what he had heard, his life began to take on a new perspective. "I told myself that within me there would be no more room for evil in my life, only for the Holy Spirit. That's when I was delivered." After that decision, he was free of all inconvenience. Upon receiving the Holy Spirit, his interior was filled.
"Today I am free. I no longer have complexes and I am fulfilled. Depression is no longer part of me", he says. Sorrows, disturbances, addictions and traumas were left behind. "Now I am blessed and happy."