What Has Addiction Stolen From You?
Read About Jeferson's Transformation
Drug addiction ruined 20 years of Jefferson's life. The "trouble life", as he puts it, began when Jeferson was just 18. At the time, he was a soccer player and even played on youth teams. Influenced by people who called themselves "friends" and who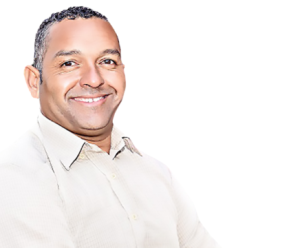 claimed he needed to experience the "pleasures of life," Jeferson began using marijuana, cocaine, and alcoholic beverages. because of this, the promising career he had in the sport was needed early. "My plans were over. I changed my focus."
While still in his youth, Jeferson met his wife, Aline. She already attends the Universal Church, but he was not interested in the things o God. "I went to church just to flirt with her. I didn't know it was the hands of God preparing everything for me."
Jeferson recalls that he thought he wasn't addicted and that he could stop using drugs whenever he wanted. However, the addiction already gripped him to such an extent to took out loans to buy drugs. " I woke up disturbed at night and saw shadows.
For my family, I no longer had a solution." While wrong influences led Jeferson to make choices that held two decades of loss, his wife's positive influence Made him understand what was missing in his life. "She fought for me and sacrificed for my life."
"I did more meditation on the Word of God and more evangelism. Everything was done with all my strength, until the most important day of my life, which I would never forget. When the Pastor called those who did not have the Holy Spirit to the front of the Altar and wanted to receive Him, I didn't hesitate to go.
It was a great seeking, in which I saw the supernatural power of the Holy Spirit over me. It was an unexplainable joy. When the seeking ended, I thought it was full of people in front of the Altar, but it was just me and God."
Jeferson is aware that it is impossible to recover all the years lost in addictions, but it is possible to live a new life having God Himself within you.
"I only have three years of history. Since I was freed from drugs and my God, I took a giant leap, for 20 years I didn't do any of that. In three years, my and life and my family were transformed. I walk with my head held high, I have dignity and I do volunteer work to win souls. Today whoever looks at me sees the transformation."
---