"I Was Swimming in Debts"
Martha's Story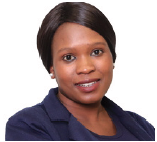 As the only employed member of her family, Martha had to provide for five people, including her mother, who had health challenges and her father could not find a job.
The money I earned was too little to provide for my family and my daughter. As a result, I ended up swimming in debt. I did not have money to get to work sometimes. To shift my focus away from my financial problems, I spent a day or two with the father of my child which led to fights with my mother. I later became pregnant with my second child, but my partner refused to take financial responsibility. We decided to go our separate ways. Things became harder in my life, and I cried most of the time because I felt even more burdened.
One afternoon, Martha was on her way back from work when she decided to attend a service in The Universal Church.
After the service, I spoke to the pastor, who suggested that I commit myself to God for my life to change. I attended on Mondays for my finances to improve, Tuesdays for my mother's healing, and Wednesdays for spiritual growth. Barely a month later, my mother was healed from the pain in her feet, which were no longer swollen. During that month, my father found a job after battling to secure one for over two years.

My life slowly changed as I developed inner peace and the financial burden was no longer heavy because I had someone helping me. Six months later, the father of my children came back and took responsibility. We have a peaceful home, and I am committed to God because His presence changed my life.
---