We Learned To Have Strength, Courage, and Unwavering Faith
Monday Strong Nation at 7 AM, 10AM, 4 PM, and 7 PM
When he was 9, Fernando attended school and helped his mother sell things and snacks she made to support the house. As a teenager, he parked cars to help his family's income.
At the age of 17, Fernando came up with the idea of; opening a water and soft drink distributor after observing cold water vendors at bus stops. He convinced his brother, Geroge, who was 23 at the moment, to invest the money he had received in the termination of his old job into the business.
"The business came out of necessity, we had to work and get money. My brother and I rented a small business that came out of necessity, we had to work and get money. Both of us rented a small space near a bus terminal. We start without working capital, only with the termination money," he recalls.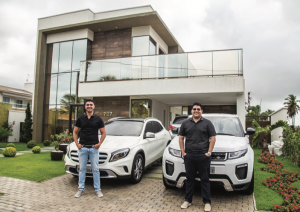 "We bought, sold, delivered, separated the merchandise, did several jobs at the same time."
Over the years, the brothers have faced difficulties and heard many "nos." They have been denied loans applications, have learned to deal with difficult suppliers and to gain customers.
Even their father said the business wouldn't work.
"It's critical to be prepared to hear a 'no' without giving up. The 'no' in the business world is always present," explains Fernando.
The brothers' distributor gradually grew, they got their first loan from a bank. The money was used in a planned way and they set clear goals. "I did the math for how much we should sell to make more money."
Fernando says, "the expansion of business was made possible thanks to the expansion of their vision. On Mondays, we started attending the Strong Nation and our vision opened up, even more, we learned to work with very bold goals."
Over the years, Fernando and George realized they need to diversify their business to keep growing. Their business to keep growing. They also started distributing food and hygiene products. The business has almost 900 different beverages registered. Straightaway, 766 foods and other products, "We learned in the strong nation that we can always improve." the brothers have also opened a construction company and have already completed more than 15 constructions. "the secret is to roll up your sleeves and work hard. During workdays I wake at seven in the morning and work 10 to 12 hours a day. I take work home with me. I learned to have strength, courage, and unwavering faith, "concludes Fernando.

---