Unisocial Reaches Out to Typhoon Victims in the Philippines

2

min read
More Than 700 Families Received Aid in the Past Several Weeks

After two typhoons left areas of the country in a state of disaster, approximately 700 families received emergency aid from The Universal Church in the Philippines, in Southeast Asia. As a consequence, large swaths of the nation experienced flooding.
The first Super Typhoon to hit the country was Goni on November 1st. It killed 26 people, and another 6 have been reported missing. While communities were still recovering, another Super Typhoon, Vamco, made landfall on November 11th. It killed 67 people, and another 12 have been reported missing.
Super Typhoon Goni was one of the most intense tropical cyclones ever recorded, with 10-minute sustained winds of 140 mph, and 1-minute sustained winds of 195 mph. Many regions of the country experienced flash flooding and were completely submerged. In the city of Marikina, the river flowing through the city reached a water level of 21.5 meters, and rescue of people stranded on rooftops was only possible with boats and helicopters after the winds died down.
Super Typhoon Vamco affected 4.2 million people, mostly in the same eight regions affected by Goni, with both typhoons causing damage to 367,000 homes, according to UN relief agencies. Many of the victims went without food for days because of the extreme difficulty in transporting supplies to the affected regions.
Giving Life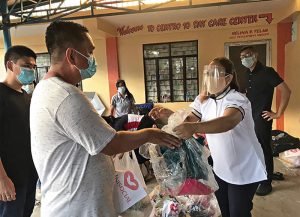 In this moment of hardship and loss, the UniSocial team in the Philippines did all they could to help. In the city of Marikina, over 200 families received boxes of basic necessities. In the city of Tuguegarao, one of the areas most affected, UniSocial distributed food, clothes, drinking water, diapers, and hygiene products to over 500 families.
Volunteers of the Children's Bible Class, the children's ministry of the Universal Church, prepared packages to donate to children. But most importantly, they shared the Word of God.
Pastor Alexander Borges, the one who oversees the evangelistic work of The Universal Church in the Philippines, explained the importance of the Word of God in times of disaster: "In difficult moments like this, we have an obligation to provide physical help, but even more, spiritual help. Many lost everything: house, clothes, documents, and more, but the Word of God and the Holy Spirit bring comfort in these difficult moments."
Pastor Borges also spoke about the Bible passage in Job 42:10: "The Lord restored Job's losses when he prayed for his friends. Indeed the Lord gave Job twice as much as he had before."
"This is the message we give to these families. We encourage them to hold tightly onto God because He will honor them and will restore double of all they have lost," he added.
---