Representatives of the HPD and UBB attend the Defeat Depression Event

5

min read
Event Highlights

Suicide claims the lives of over 40 thousand people every year in the USA. It is the 10th leading cause of death in the country. An estimated 264 million people suffer from depression around the world (who.int). Depression doesn't care about a person's skin color, age, nationality, financial situation, political party, education level or religion. Even psychologists, psychiatrists and counselors whose goal it is to bring hope to the hopeless, battle with depression. And sadly, every so often we even hear of pastors committing suicide.
Medication alone cannot heal depression; it is a disease of the soul. And what doctor can operate on the soul? But, God can do what we cannot.
"Come to Me, all you who labor and are heavy laden, and I will give you rest." (Matthew 11:28)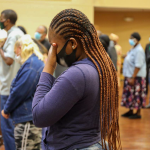 Based on this promise, The Universal Church held the Defeat Depression Event in all its locations in the USA on Sunday, October 11.
In Houston, Bishop Joshua challenged people to receive God's peace and rest, to receive what His Word promises. There was no religious message or motivational speech, but simple, down-to-earth faith to relieve those in distress.
Georgia Simmons shared her experience, an eye witness of the power of God.
When My Kids Were Taken From Me, I Lost It…

The father of my children went behind my back, falsely accusing me of abusing my children. What followed left me feeling depressed, with a dark cloud over me. Although his accusations were false, I suffered the consequences as if they were the truth. He was text messaging my children without my knowledge, telling them to lie and say I abused them. And so the unthinkable happened. The state came to my home and took my children away from me. That was the worst pain I have ever felt. It left me in severe depression. I planned out how I was going to take my life. If I couldn't have my babies, what was the point of living? This is when I was introduced to The Universal Church. I started coming and using my faith, and the urges to take my life slowly faded away. God brought to light everything that was done in darkness. We found out about the text messages, and the district attorney was able to reverse my case. God not only did this miracle, but He healed me from the depression. I was able to defeat the depression that was defeating me! God has given me peace inside, He's removed every ounce of sadness and depression from my heart, and He's restoring my family too!
Bishop Joshua and a team of pastors made strong prayers for the depressed and everyone with depressed relatives. (The pastors of The Universal Church are available for prayer and counseling 7 days a week.)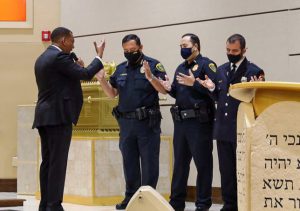 In Houston, Texas, representatives from the Houston Police Department and Universal Beyond Bars (UBB) were present, and everyone stretched out their hands and prayed for the HPD officers.
Bishop Joshua explained the importance of praying for and respecting those in authority, based on Romans 13, and urged everyone to continue to pray for them and the country.
"Therefore I exhort first of all that supplications, prayers, intercessions, and giving of thanks be made for all men, for kings and all who are in authority, that we may lead a quiet and peaceable life in all godliness and reverence." (1 Timothy 2:1-2)

Bishop Joshua continued…
"When we fight physically and verbally, we lose. But, when we fight spiritually, we gain. If we fight against officers, the government, the authorities, we are just fighting against ourselves. Don't use your heart, your emotions. Don't follow the crowds that go around rioting and breaking things, who don't even know what they're saying or doing. Use your mind, your intelligence. We should not fight the authorities. According to the Bible, we should pray for them. If you want a better government, pray for them, and you're going to have a better life. We cannot change the entire world, but we can change ourselves. If you change yourself, you're going to have a better life."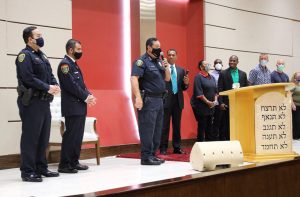 Pastor and Chaplain Quincy Leith, national director of the UBB ministry, introduced Chief of Police Acevedo, Lieutenant Lopez, and Chaplain Robles, representatives of the Houston Police Department. Chief Acevedo shared a word of gratitude on behalf of HPD:
"Thank you for lifting up these men and women, for lifting up the men and women of law enforcement… The only way to get to the next level is through unity, love, and God."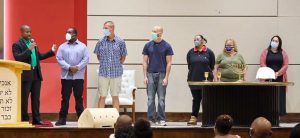 Chaplain Quincy also introduced members of UBB who used to be incarcerated, and through the ministry in prison received spiritual help, and whose hearts and minds have been transformed.
Sheila Ellis, who was in prison for 15 years, shared how her vision changed towards authorities after being introduced to the work of UBB:
"Before, I thought the law was against us, but today I think differently. I make better choices, and I look at them as authorities over us."

Pastor Quincy visits the HPD headquarters every Friday to pray for officers. The work of UBB reaches out to both inmates and officers because depression and spiritual attacks affect them all, and the power of faith is also able to help anyone. True faith that's put into action brings the answers we need no matter our background or past.
In the words of Chief Acevedo and Bishop Joshua, when we unite forces and fight spiritually against depression and the problems of society, when we use the intelligent faith that the Word of God talks about, we will win. We will live better, healthier, and happier lives.