Terena tribe receives God's Word in a special event

2

min read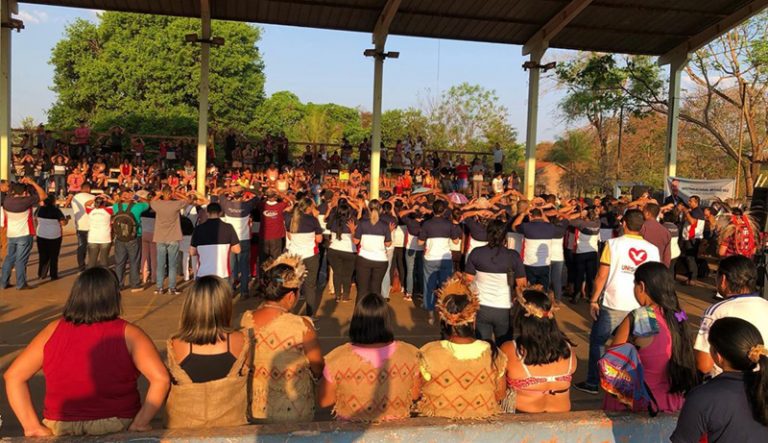 In obedience to an order from the Lord Jesus Himself, Universal has been steadfastly fulfilling the mission of bringing God's Word to all people. "And he said unto them, Go ye into all the world, and preach the gospel to every creature." Mark 16:15
In the Faithful Commented Bible, Bishop Macedo explains that since the early church, "this has also been the mission of the new disciples, who, baptized and filled with the Holy Spirit, have the authority to invade the kingdom of darkness and rescue the lost, helpless and afflicted (Luke 10:19).
The oppressed by the devil are everywhere. Given this, we need to assume the condition of servants and perform what the Lord Jesus has determined us to do "- comments Bishop Macedo.
Power of Prayer

Guided by this faith, the Evangelization Group (EVG) of the municipality of Miranda, Mato Grosso do Sul, performs weekly important work in the Cachoeirinha Indigenous Land. The village belonging to the Terena Tribe has more than 4,000 members, including men, women, and children.
As explained by Pastor Manoel Moraes, responsible for EVG / Mato Grosso do Sul, the tribe welcomes all the actions and prayers that Universal brings to them. Proof of this, that nine members have already accepted the Lord Jesus as the only Savior.
"They are very receptive. At first, they were a little afraid, but now they look forward to our weekly visit. They believe a lot in the power of prayer, including a mother and daughter of the tribe are already part of the Evangelization Group and help in communication because not everyone understands the Portuguese language "- described Pastor Moraes.
Read also: Xavante Indians Know the Word of God
The event

At the end of last September, volunteers from The Universal Church promoted a great action in the tribe. The Terenas received with great joy the work organized by almost 170 volunteers, which also had the special presence of Bishop Marcello Brayner, responsible for The Universal in the State. It was a special event for everyone.