Choosing between cancer treatment and pregnancy

3

min read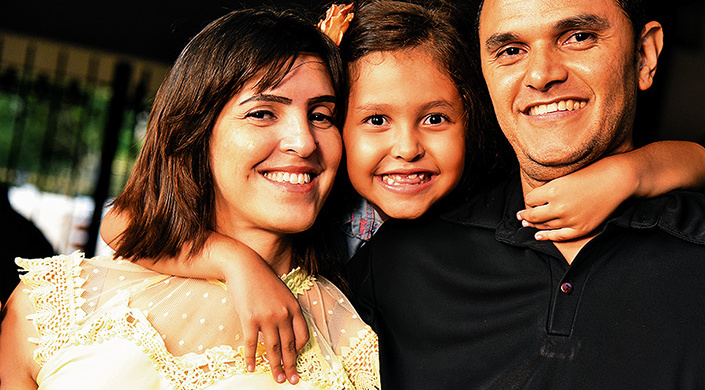 Patrícia has been attending The Universal church for 25 years and she has been married for 15 of those years. At the beginning of her marriage, she had no plans to have children.
"My husband was a college student and we lived on the bare minimum. The desire to be a mother came years later."
The good news about her pregnancy came in 2012, she went to the doctor but in addition to confirming her pregnancy, Patricia received the result of a biopsy she had done. She was told she had breast cancer and knew she was four weeks and six days pregnant. "No one expects to hear that they have cancer. Even though I knew of a lump, the doctor had said that the likelihood of it being malignant was very low, since there is no history of cancer in my family and, even at my age; we were confident. The lump was in the right mammary gland, and reached 3.7 centimeters in size. The biopsy result indicated invasive breast carcinoma."
Given this scenario, there was a decision to be made: doctors said she would have to choose cancer treatment or pregnancy, because the drugs would compromise the development of the embryo. "The doctors said the priority was to save my life. I was instructed to have a legal abortion because I was in danger of dying. " Patricia, however, had to go to the public prosecutor's office to obtain a document preventing the termination of her pregnancy. She did not attend the abortion surgery scheduled for September 11 of that year. Her daughter julia, was born healthy and Patricia breastfed for the first 6 months.
That's when Patricia started chemotherapy and suffered from side effects such as hair loss, nausea and vomiting. "Within 20 days I went bald.
During treatment she remained at her mother's house. "It was hard, my daughter cried and I wanted to help, but my body wouldn't let me. Until I got up, I went to the bathroom and said to God: 'Lord give me strength.' When I left, it was as if God had torn away all the pain I felt "
Every 15 days, Patricia went through the chemotherapy sessions but would always pray before taking the medication.
Soon she noticed that there was no more unease as before. "The only thing I felt was sleep, because the treatment lasted three and a half hours. The doctors looked at me and said: 'Are you sick? Because it does not seem so!' I did the procedure out of obedience to the doctors, but first I believed in God. He who bore our pains and diseases upon Himself. I realized that He had a purpose for my life."
After chemotherapy came surgery. At first, the breast would be removed, but one week before the operation, the doctor chose to only remove the quadrant (the affected part).
The treatment took place for three years and included drugs to prevent the disease from returning. Two years ago she stopped taking them and is following up annually.
"Negative words came to discourage me, but we must look to our faith, to God, faith moves mountains. I knew that my healing depended more on me than on God. This problem came to lift me and not to bring me down. The situation made me stronger. Now I have my health and my child."

Looking at her 5-year-old daughter, Patricia repeats every day: "You were born for the glory of God" .