Appreciating 800 officers and staff in Texas

3

min read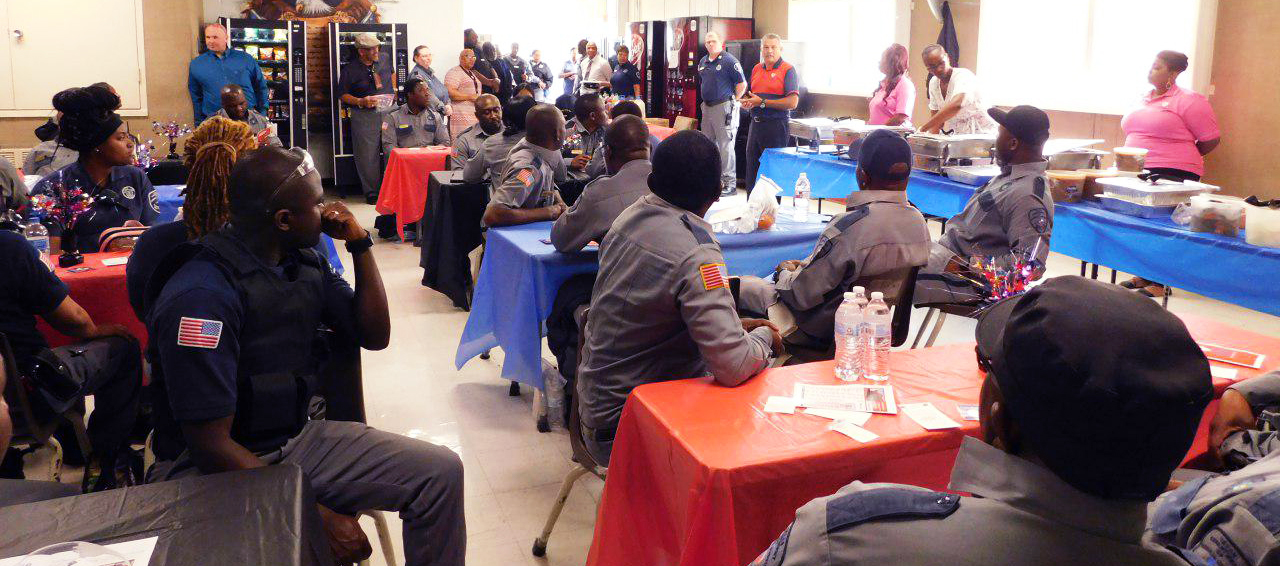 UBB caters to eight hundred staff members and officers in the state of Texas.
During the first week of May, the UBB held the largest officers appreciation luncheon– one of many to come, for the Darrington and Luther Unit in the State of Texas. The goal was to have an officers appreciation week for the facilities who contribute to the special work of UBB by maintaining supervision and the necessary assistance. We want to thank all the Officers, Wardens, Assistant wardens and staff, for allowing UBB to continue their work for the men and women behind bars. Your open doors enable us to continue offering counseling and spiritual guidance in meetings, such as; Self-Help, Intellimen and anger management.
Officers appreciation week in Darrington – 500 officers, staff and employees were present.
Darrington Unit is a maximum security prison located in Rosharon Texas, part of Brazoria County. The luncheon was held at the main compound near the Trusty Camp. A facility where inmates are provided with vocational classes, academic coursed and medical health. UBB's first stop for appreciation week was the Darrington Unit, It was a pleasure for the volunteers who were present to be a part of this assist in this mission:
The experience was wonderful, it was a pleasure to serve the prison staff and all the other departments that make the facility itself to be a safe environment as much as possible. Everyone genuinely received our presence with a grateful heart during the appreciation of officers week in the facility. – Ashley ( UBB Volunteer in Darrington Unit)
We would like to thank UBB to sponsor our employee appreciation for our staff in 2019, were greatly in debt to them and their organization. We appreciate them coming out here and the work that they do for us here in the prison ministry. It's also something that allows us as an agency, to complete our mission of reintegrating defenders back into society, without them it will be a hard task. We appreciate what you do, and what the organization stands for and thank you for helping us feed our staff. – Steven Bryan (Senior Warden in Darrington Unit)
We would like to thank you for all of your help, we appreciate everything that you do for us and for our employee appreciation. Thank you for your assistance.
-Assistant Warden (Left picture)
UBB's second stop was O.L. Luther Unit. – Over 300 officers, staff and employees.
I finally had the opportunity to be apart of the UBB work in prison for the officers and it was a learning experience. I realize that we take God for granted why do I say this? Because there are souls who are suffering, I realize that I am not better than anyone, I am small, I am not in the position or should ever think that I am in the position to believe that I am better than anyone or above anyone. I can tell you that after today, I will not serve the same way ever again and everything I do from today for my God, will be excellent. And that's what I took from my experience. – Carol (UBB Volunteer)