How far would you go for your mother?

10

min read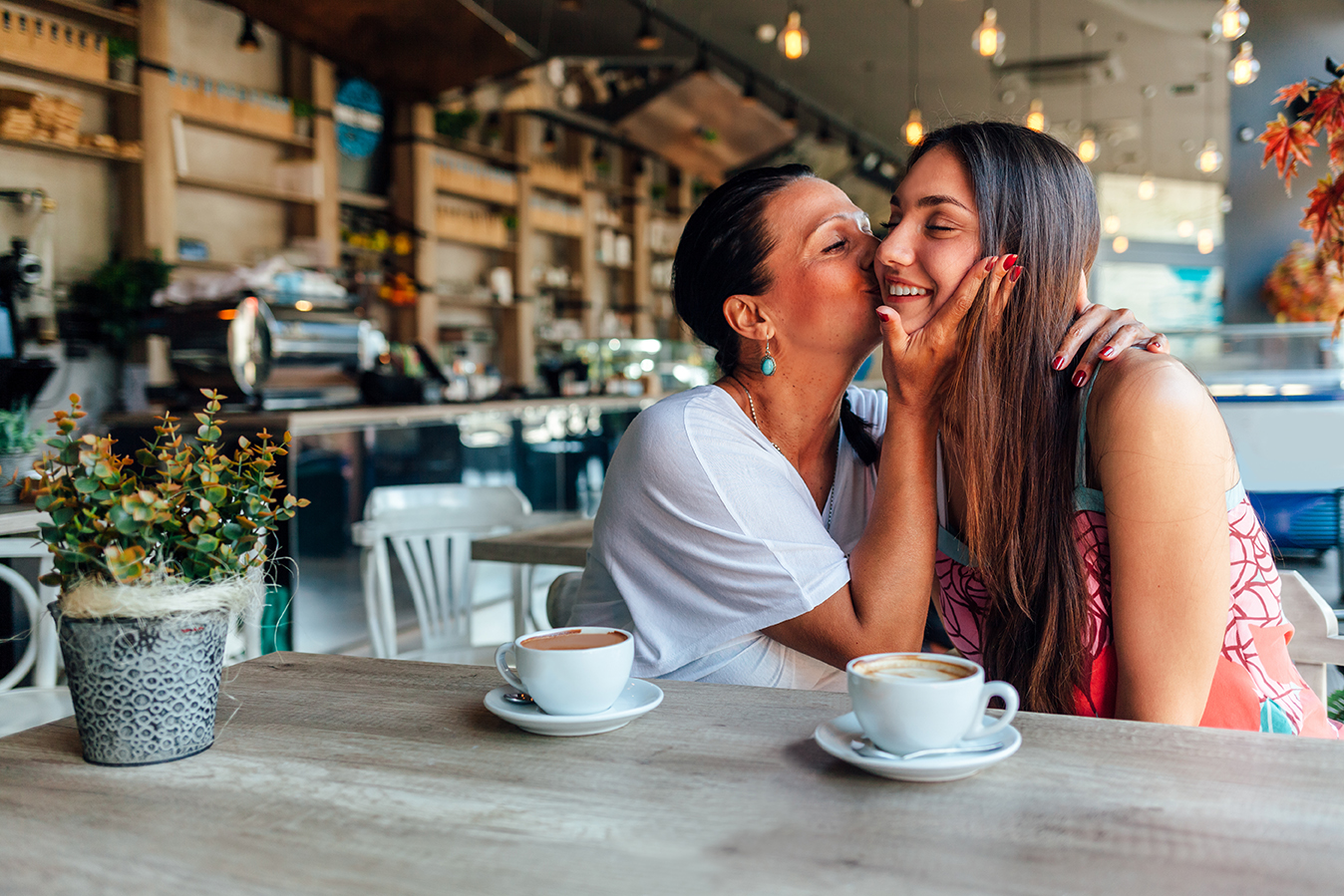 Is giving a gift the most that a son can do for his / her mother? In this report, you will hear about children who were facing a great challenge and decided to fight for their mothers. With this, they show that mothers deserve more than just a day of dedication. Want to know these inspiring stories? Keep reading.
The childhood of Pâmella Kelly Santos dos Santos, 29 years (photo to left), was marked by misunderstandings between his parents. She says she cared a lot about her mother. "My father drank, he was jealous and aggressive. He would fight with my mother, she would leave home and then return, "she says, who is from Salvador, Bahia.
Despite the tense atmosphere at home, Pâmella says he was confident everything would improve. "I was a child, but I prayed and asked God to help me." She reveals that she has learned to use the still small faith. "Until the age of six years old, my mother took me to the Children's Biblical Center (CBC), but then she moved away from Universal."
After many fights, Pâmella's mother left the house. However, the situation has not improved. 52-year-old Maria Edilene Vieira Santos summarizes how it was at that time:
"I started drinking a lot, every weekend, from Thursday to Sunday. I would take Pâmella to the bars and she would see my suffering. "
Maria Edilene recalls receiving advice from her daughter, despite her young age. "She asked me not to drink and said it was not good. Sometimes I would wake up after a lot of drinking and she was by my side. "This problem lasted a few years.
When she began studying at a new school, Pâmella discovered a Universal Church on the way. She came in to ask the pastor for advice and soon went to the place. Shortly afterward, she made a decision: "I made a purpose with God so that my mother would return to the Altar and leave the alcohol." Pâmella had also invited her mother to Universal, but she had refused.
But after a month, Maria Edilene's life began to change. "I was embarrassed to drink. I listened to my daughter's advice and went back to attending Universal meetings. There, I had an encounter with God and I got to see things differently, "he admits. Since then, Maria Edilene has never been drinking again.
Today, Pâmella and Maria Edilene are volunteers at the CBC.
"I never gave up on my mother. It is very gratifying to have her support and company. Sometimes people crave so many things that they forget the most important thing, which is to live, to love and to demonstrate what we feel for the people we love, "Pâmella concludes.
Son in the faith
Adelaide Firmino, 57 (photo above), says that she underwent a major transformation of life thanks to the support of her youngest son. She explains that her problems began when the father of her children left the family.
"My children were small when my ex-husband left us. We lived in a house of 320 square meters and we lived in a 48 square meter apartment in a neighborhood known for being violent, "she says, who is from Catanduva, in the interior of São Paulo.
To support her family, Adelaide began to work, but explains that she was worried about the children's situation. She relied on the help of neighbors to care for the little ones. "I did not want to lose my children to the world." To try to combat her anguish, she went to church. Despite this, Adelaide could not find peace. "I was depressed and had a panic syndrome. I suffered a lot because I was abandoned by my ex-husband, I got sick and even had surgery. "
When her son, Thiago Penariol (pictured left) announced that he had received an invitation to go to a church, Adelaide was startled to discover that it was The Universal Church. At the time, he was 18 years old. "I had insisted that he go to my church, but I did not like Universal." Contrary to his mother's opinion, the young man continued to attend meetings. "One day he told me that he was participating in the Young Force and invited me to go to a special consecration. I went to please him. After a while, he was raised to the workman and I went again. "
Thiago Penariol, who is now Pastor and responsible for the Therapy of Love in Taubaté, in the interior of São Paulo, recalls that he took advantage of his mother's visits to the Universal Church to convey to her some words of faith. "At first she did not listen to what I was saying, but I knew that faith could transform her. So I used the consecrations to bring it closer to God. "
Adelaide says she was surprised by her son's dedication to faith. "In the middle of the night I saw him kneeling, praying. At first, I did not understand. He was preparing to be a pastor, and I and my father wanted him to leave the church. "However, she reports that her son's efforts worked. "I was abandoned and I suffered for 17 years. I was a sad person. I only overcame everything when I finally knew the Word of God. "
Today, Adelaide says with a smile on her lips that she is a very happy person. "I married again and am the leader of the Caleb group in Catanduva. My daughter says that we have a father in the faith, Thiago, "she says, who has two daughters, Graziele and Lilian. Pastor Thiago emphasizes the importance of faith in the relationship between children and mother, since it stimulates the exchange of teachings. According to him, care and affection must be mutual. "My mother has her life experience. She went through struggles, difficulties, and has things to teach. And I have an experience with God to teach her. "
Away from my mother
From very early on, Patrícia Castro Borba, 36 years old (photo to right), had to get used to living away from her parents. "When my parents separated, I went to live with my grandmother." She reports that she always thought about her mother and sought strength in the faith. "I've been to Universal since I was three. At the age of 11, I baptized in the waters and began to help at the Children's Biblical Center (CBC). I taught the children and I learned too, "she recalls, who today is the coordinator of the Novo Hamburgo block in Rio Grande do Sul.
Patricia used to receive her mother's visit twice a year. "She smoked, drank, there was a horrible climate. I always made family prayers and prayers and took pictures of my mother to pray for her during the meetings. "She explains that she missed a closer relationship with her mother. "I had no mother's reference. When Mother's Day came, I would hand over the school's memoirs to my grandmother, since I did not have a mother present. "
Patricia says that she prayed for her mother for many years. "It's been ten years of fighting. My mother just went to church after she became ill. "Petrolina da Silva Pereira, 60, remembers that era:" I was disheartened by the doctors, I thought I was going to die and wanted to save my soul. I had a lot of pain in my stomach. I went to Universal after watching a show on TV. Then I discovered that it was the same church Patricia and my mother attended. My pains passed and I had nothing, "he says.
Patricia says that after going to church, her mother's attitudes have changed. She put down her drink and cigarette and approached her daughter.
"My mother gave herself to God. Now we're always in touch. Every day we talk and I send a blessing to her, even though we live in different cities. Our relationship is based on caring, attention and love, "she celebrates.
Outdated disease

Pamella Pandela, 27, also used the faith to help her mother overcome a number of illnesses. According to her, it was three years of comings and goings to the hospital. Pamella was only ten when her mother was hospitalized for a long time. "My mother had vasculitis, pancreatitis, bone tuberculosis, among other diseases. She was depressed, too. Because of the hospitalizations, sometimes I had to stay with relatives. My comfort was to go to church, where I found support in the CBC, "she explains, who is currently the coordinator of the Children's Bible School in Sinop, Mato Grosso.
Despite the suffering, Pamella says that faith helped her to overcome moments away from her mother. "I saw my father and brothers crying, but I believed we were going to get over it. I learned to trust God at a young age. "
One Sunday in May, Pamella remembers that she had a remarkable conversation with her mother. "It was Mother's Day and my father had taken me to the hospital. I ran to her room and found her crying. So I gave him a very strong hug and said that we would win. "
Maria Paula, 63, also remembers the day: "it was very remarkable. Pamella asked me not to cry and said that I would leave the hospital soon to take care of her. She said that she could not be alone and that she had asked God. In the hospital, everyone admired her faith. "According to Maria Paula, her daughter's words were decisive. "I wondered what I was doing at the hospital and asked God to heal me."
Ready to receive a discharge, Maria Paula had something unexpected. "I had a brain convulsion and word came that I died." Pamella, who was in the hospital, says she did not believe in the diagnosis. "People were trying to comfort me, but I was sure my mother was alive. A few minutes later, the doctor returned and said that he could not explain what happened, but my mother was alive. This miracle marked my life, "admits Pamella, adding that her mother was discharged the same day.
When she got home, Maria Paula asked Pamella and her eldest son to throw the medicine in the trash. "The doctor said that my mother was going to die at home, so she reacted and said she would fight for her life. So we begin to see progress day after day. "
Maria Paula is thrilled to talk about her daughter: "Pamella was a warrior. She gave me strength and took care of me. Today we are very close and I continue in faith. The diseases have not come back, "he concludes.
Mothers and faith

Mother's Day, besides being a commemorative date, is a day to do much more than celebrate, as Bishop Francisco Decothé explained, citing that the Bible teaches about the value of the parents.
"For the children, I repeat what is written in the Bible in Exodus 20:12: 'Honor thy father and thy mother, that thou mayest live long in the land which the Lord thy God giveth thee.' We can seize the date to bless the mothers. "
The stories shown above have one thing in common: the children struggled to help their mothers face challenges. Asked about the meaning of care among family members, the Bishop stresses the value of this type of attitude:
"It is very important for one relative to fight for the other, and it is also biblical (1 Timothy 5: 8). The promise of God is that all will serve Him, those who believe will see it happen. "
Bishop Decothé's mother also struggled. "My mother had cancer in her uterus and after doing tests the doctor said she would not have a cure. She went into despair because she had four children, but by faith, she was healed and has nothing today. "
*Source Translated and adapted text by By Rê Campbell