After 5 years in the penitentiary

2

min read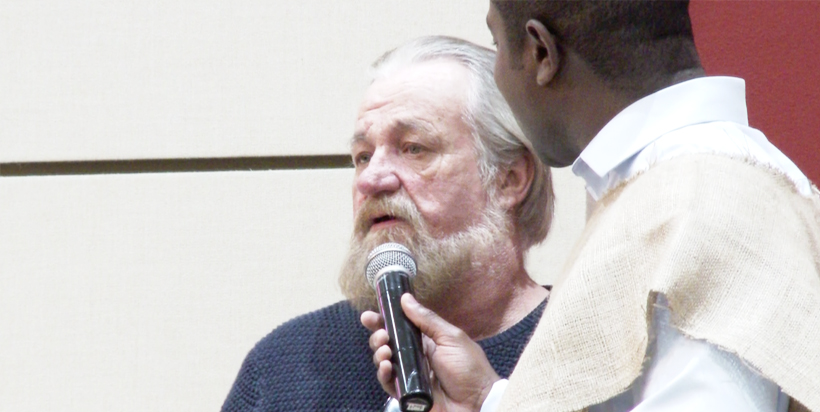 Frank Hall who has been recently released after completing his five-year sentence in prison, paid a visit to The Universal Church in Houston, Texas, where he shared his experience with the UBB program.
My name is Frank Hall,
Today, I live in Livingston, Texas but by this time last month, I was in the penitentiary where I served for 5 years. I was in Wayne Scott Unit and later transferred to the Luther Unit.
When we met him, he was with us doing the IntelliMen. We had many programs and that's how we came in contact with him, but he had a problem in his health- Pr. Quincy
When I transferred to Luther Unit, I found out I had Hepatitis C. I talked to TDC about getting treated. There are over 20 thousand people in TDC that have hepatitis C. After continually seeking for treatment I was able to get treated.
I met Pr. Quincy, Pr. Leandro, and Pr. Nathaniel while in prison. Although I was in many programs, the IntelliMen Program made you look at different areas of your life in order to develop your character; It's a character building class. I know these are godly men. They counseled me and they prayed for me and my Hep C treatment. God delivered me from Hepatitis C.
The last time I went back to the doctors, they told me all my blood levels, enzyme levels everything was normal and the Hepatitis was gone.
I received The Universal Church newspapers while in prison. This ministry really works.
There are many ministries in there, I've seen men find Jesus Christ on their knees in the middle of a 5×9 concrete cell. Many people in this world out here don't understand and say " Well, you just got out of prison."
This ministry understands that everything on this God's green earth has a past. That every sinner has a future and it's very beneficial what these men are doing here. Support them.
There are many men in prison that God wants them in there right now, but there are also many men in there that deserve a future who are not the same men that entered in there. – Frank
The service was great, the UBB ministry doesn't forget about you once you're on this side of the fence.
We are rescuing the dignity of those who are in prison. While you are inside we help you, and we also help you on the outside. – Pr. Quincy.
[fb_plugin video href=https://www.facebook.com/universalbeyondbars/videos/445093452898011/?eid=ARCNZJpff_KqeBXewgOAmoVvMxdrXNUxYGL2N475R1nCNDSgsFptW_3E9_IU3gw_7l40u0tjAZoWskXk]