Learn to say No

1

min read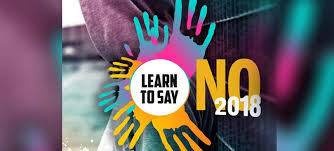 "NO! I refuse to let others influence my decisions."
"NO! I don't have to "prove" my love."
"NO! I see what drugs do to people."
"NO! I choose to have a bright future."
"NO! I rather you call me a loser now and not regret it for the rest of my life."
You might not be a teen, but surely you remember what went through your mind at that age. The time of needing to fit in, looking for a friendship that will last a lifetime and to be a part of something.
I say yes because…
• I want them to like me
• They will gang up on me if I say no
• I don't want them to think I'm lame or a coward
• They're going to spread rumors about me on Facebook
• They will post pictures of me on social media
• It's my life, plus everything will be fine etc.
This goes for anyone, you don't have to feel guilty, scared or ashamed to say no, especially in a situation that will not add to your life.
If you are between the ages of 14-30 you are welcome to take part of any upcoming YPG events.
Learn how to say "NO!" and join the fun.
Want to learn more about upcoming YPG events? follow us on Facebook
*Date and time will vary depending on your local branch.