The Ark continues its journey

2

min read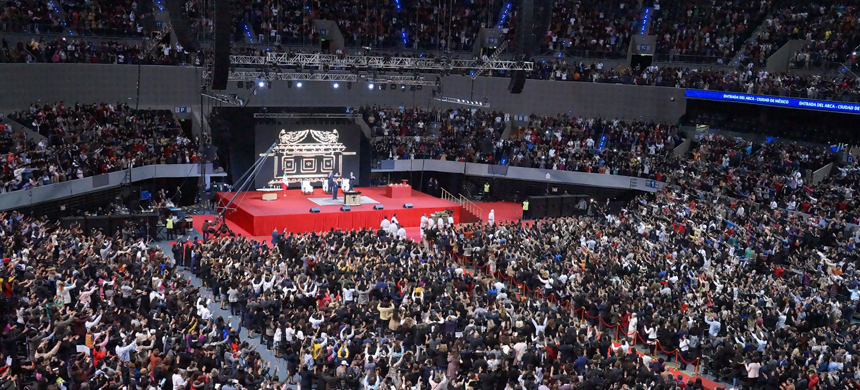 The replica of the Ark of the Covenant made its grand entrance on Sunday, October the 21st in Mexico City's Arena. Over 34,000 people were present for the grand ceremony ministered by Bishop Edir Macedo and by Bishop Djalma Bezerra.
In the Ark there were three sacred elements: the tablets of the Law -which represented the Word of God committed to his people-, a jar of manna -which symbolized the Lord Jesus, the Bread that came down from Heaven-, and the rod of Aaron, a reference to divine justice. For a long time, this sacred artifact was kept in the Tabernacle -a kind of mobile tent- and later in the Temple built by Solomon (1 Kings 6.1).
The expectation of those who expected the triumphal entry was very great, motivated by the faith that something great would happen in their lives. As soon as the Ark entered the Arena, countless people were healed, following the example of Mrs. Maria, who could not walk 4 years ago. After the moment of faith, I walked perfectly.
The faith that brings results
During the special event, Bishop Macedo explained the divine nature and the importance of promises in the Scriptures.
"You can not see your spirit in the mirror. So it is with God, who is Spirit. He reveals himself to us through His wisdom, which is in the Bible, "he clarified. However, for the person to achieve the benefits that are conquered through His Word, it is necessary to manifest a definite faith.

"You do not have to feel the faith. Or you have faith to advance or you do not have. That of God gives us courage to obey and reap results. That is intelligent and rational faith, "he added.
And how can you be sure that God is present to fulfill his promise? "It is written: 'Where two or three are gathered in My name, there am I in their midst' (Matthew 18:20). For me, that's enough. Therefore, I am sure that He is here, "he emphasized.
To end his teaching, Bishop Macedo told the participants that he wanted to make a proposal: "What I want is for you to have the opportunity to start all over again. Surrender your life to Jesus so that He comes to transform it.
Written by the web department in Mexico/Universal.org.mx
*Edited and translated