The Triumphal Entry

2

min read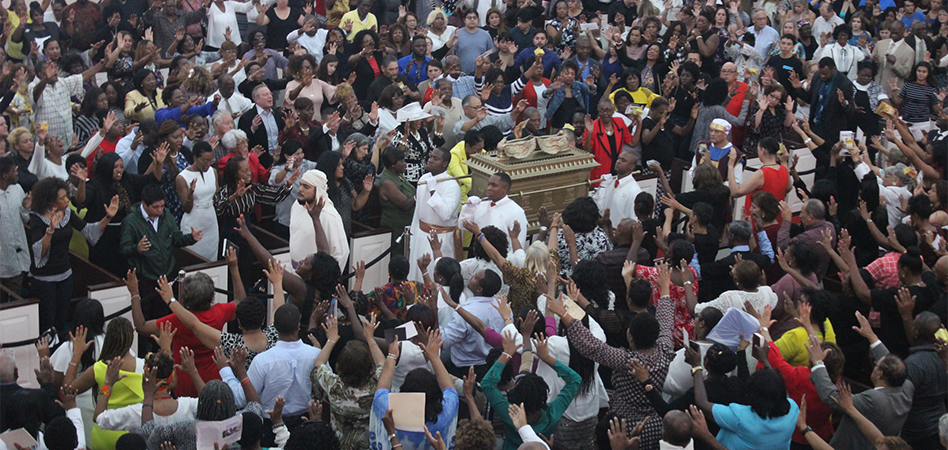 The Ark of the Covenant made its grand entry into the Cathedral of Faith. Houstonians along with hundreds of visitors from all over the U.S were present. People from various backgrounds and walks of life came together for one purpose, to experience the power of the living God!
The Ceremony was broadcast live from Univer Video (a Christian entertainment streaming platform) Facebook, and YouTube Live. Over 1,000 people had the honor to receive the Ark.
The ceremony of the Ark of the Covenant is the most powerful event on earth, It's the symbol of your triumphal entry in Jerusalem – Bishop Bira Fonseca
From the moment the ark headed towards the Cathedral until the grand arrival, every detail was impeccable. White garments worn by the Levites symbolized holiness. The details of the ark itself were extraordinary– skillfully crafted in gold. Trumpeters announced the grand arrival playing Holy City and How Great Thou Art.
"When the ark enters this place, let your power and your glory enter here today". – said, Bishop Bira
And that is exactly what happened!
The crowd was filled with a joyful energy as they waited for the ark to make its entry but the most extraordinary moment was the miracles that took place. Through the on the spot testimonies, you could see that God's power was truly there. When asked who had received healing, lines of people formed quickly, including many who dropped their walking canes and testified that lumps had disappeared and pain left. There were so many miracles that time failed to hear them all!
As Bishop Bira asked the attendees if they have ever received a transformation since coming to The Universal Church, hundreds of people raised their hands. Some raised their hand for healing, others for their financial life, love life and much more!
It was truly a memorable experience for those who had the opportunity to witness the ceremony.
"The Ark of the Covenant reminds us of our vows to You, and Your covenant with us, that we became Your children and You became our Heavenly Father. " -Bishop Bira
No matter which social network you were watching from, the entry on this day, was sure to be a day that marked your life. We all learned that as we put God in front of us and make Him first in our lives then we become the ark (the vessel to carry His presence and glory) and will go out and conquer anything that comes against us in this world.
This day was a true reminder and representation of Gods presence among his people.