Caring for someone that is ill

1

min read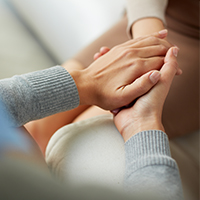 If relationships are challenging under the best of circumstances, how are they when a family member is ill and requires special care?
When caring for a loved one, it is difficult for a family member to admit they become stressed and sometimes even find it as a burden. As a result, the caregiver can feel somewhat guilty and angry at themselves for having these feelings.
If you find yourself in this situation, it's important to know that you need support as well. By setting reasonable expectations for your caregiving, your stress levels will decrease and consequently be a more effective helper. Caring for a loved one is an act that is done with love, however, you can become a patient yourself with an emotionally and demanding task. Be wise and take care of your own health as well.
According to www.mayoclinic.org, There are a few strategies for dealing with caregiver stress:
• Accept help
• Focus on what you are able to provide
• Set realistic goals
• Get connected
• Join a support group
• Seek social support
• Set personal health goals
• See your doctor
Do the circumstances around you make you tired, weak, or see nothing but limitations?
If you need spiritual support in addition to the medical treatment you may be getting, do attend our Healing Services every Tuesday at The Universal Church nearest you. For a list of locations click here.