A restored life, after a downfall into drugs

1

min read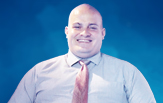 When I was 12 years old, I started to smoke because I saw my friends smoking and I thought it was cool. They used to smoke weed and I started doing the same.
I started to act in a strange way, I used to do bad things around my family and one day I smoked weed in front of my mother, that's when I had to move out of the house into a little apartment.
At the apartment, I started using drugs with a lot of people. At the bar, I met the person who became my wife today.I beat her and because of the aggression, I went to jail for 3 days and our relationship became really bad. I used to tell my wife that I was not going to use drugs anymore but I couldn't stop. One day, someone invited me to the church and I didn't want to go. When I got there, I saw something completely different so I stayed.
Right now, I'm a completely different man, I feel happy and comfortable. I have two blessed boys, comparing myself now with the past I don't know how to explain but it feels like I am a new person.
I feel different, happy, I have everything I wanted. I don't need to depend on drugs to feel cool, I have my own house, my cars and my family is restored. I feel like a new person because in the past I needed something.
Today, I don't have to depend on drugs. I have happiness in my family and within myself. – Jodi, Fl