UNISOCIAL | Houston, Texas

1

min read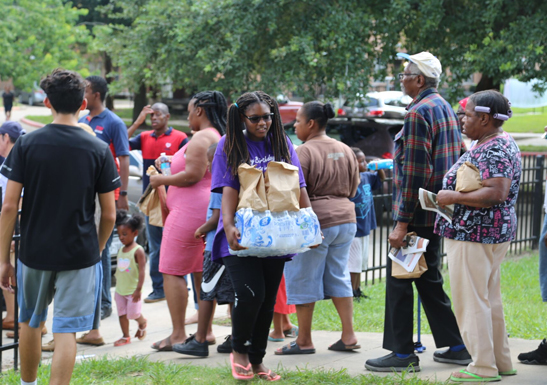 UniSocial has paid a visit to Cuney Homes, a community in 3rd ward Houston, Texas. All the groups from SILC came together to help distribute water and canned goods for those who are in need or might have been affected due to the Hurricane Harvey. #UNISOCIAL
In response to this disaster, UniSocial is taking donations from all its branches across the US and from close by communities.
We have set up a Hurricane Relief Station at our Southwest location.
You can stop by today if you—or someone close to you—have been affected by flood waters and are in need of donations.
You can also pay us a visit if you have items you would like to donate (find a list of needed items below). Items will be picked up by those in need but also distributed in affected areas. Stay plugged in for updates (facebook.com/succeedinlifecenter)
Houston, don't give up, you've got this!
DROP OFF AND PICKUP LOCATION:
SiLC- Succeed In Life Center
 7075 Southwest Fwy, Houston, TX 77074
 Phone: (888) 691-2291
(Disaster relief efforts led by UNISOCIAL, a community outreach group by the Succeed in Life Center). You can stop by at your nearest UCKG branch to drop off any of the following items:
* Diapers, Wipes, Baby Powder (travel size)
* Baby Formula, Bottles, Baby Food, Bibs,
* Canned food, non-perishables
* L, XL, XXL Clothing
* Baby and children's clothes
* Beddings and Pillows
* Medical supplies/Tylenol/aspirin
* Wheelchairs
* Toiletries
* Lysol, Purell, Hand sanitizer
*UNISOCIAL is the partnership of all the outreach groups of The Universal Church: Assistants, Soul Winners, YPG, Caleb Group, UBB (among others) with the goal of doing social work and saving souls for the Kingdom of God. It organizes fundraisers, donations, and voluntary services to help those in need.