A special prayer just for you

1

min read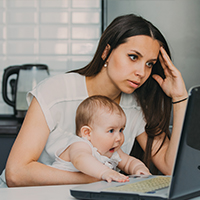 Are you a single mother?
On Sunday, September the 17th, Bishops, and pastors will pray for all the single mothers that are facing many struggles.
Every woman is different and it will be unfair to categorize all the single mothers in one group. Being a parent is a nonstop spiritual battle because as a parent, you are responsible for that little person's soul. One can only imagine how difficult it is to do both roles.
Spiritual guidance, school tuition, their friends, bad influences, homework, the PTA, unexpected sickness, attention, and balancing work, school, church and play time and so on. This is only for the child not even mentioning the needs of the mother.
Not all single mothers decided to raise their children by themselves by choice. These women are the ones that fought for their marriage and are now divorced. They are the ones that had a long and fulfilling love life but are now widows. The ones that will protect their family even with their own lives if needed.
"As one whom his mother comforts, So I will comfort you;
And you shall be comforted in Jerusalem." Isaiah 66:13
Whatever the circumstance might be, all single mothers need guidance in order to receive that extraordinary spiritual and mental strength that only God can give.
Whether it's your child's safety or ensuring their future is blessed, you can achieve this by practicing an intelligent faith. Join us on Sunday, September the 17th, The Universal Church will make a special prayer for all the single mothers that are struggling in many areas, whether it be in their finances, love life, or spiritual life.
After the Sunday meeting, speak to one of the assistants or a pastors wife,
and ask about our Mothers in Prayer meeting.