Cuney Homes

1

min read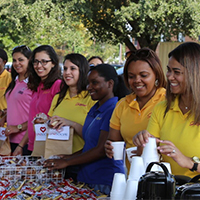 On September the 2nd, Saturday morning, UniSocial paid a visit to the community in 3rd ward Houston, Texas. All the groups from SILC came together to help distribute water and canned goods for those who are in need or might have been affected due to the Hurricane Harvey.
Cuney homes
The groups invited everybody who lived in the complex from door to door, in order for them to take part of a morning breakfast that was prepared exclusively for them.
As the music from the church was playing, people started to get curious about what was going to take place and were ready to hear the message. This event didn't stop here, not only did everyone receive a word of faith but also a strong prayer.
Although helping communities that are in need is a must, the main goal of Unisocial that day was not only to distribute food but also to share a word of faith and to help those who are suffering.
God's Word is our spiritual food, which will enrich our lives, produce faith in our hearts and renew our minds. – Bishop Bira Fonseca