The message that you portray with your appearance.

2

min read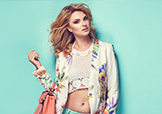 How shall I dress today?
Now that you have been working with your inner self, and you're confident about showing a different representation of your persona, what could be missing?
Although your actions have changed, why is it that others are still wondering if the change is entirely true?
With a closer look at your wardrobe, you'll find the answer. While your main priority is to work from within first, your wardrobe might be giving the testimony of the old you!
Maybe you still wear that dress that you no longer feel comfortable in, yet you wear it because it's the quickest thing to grab early in the morning. Let's say you have a nice wardrobe, that gives a good representation of you, yet at the same time, it's like you cloned the style of people around you. It might be decent, but the unique touch that only you can give might be missing. Before you start overthinking everything that is currently in your closet, below you can find really good references and help to all your questions.
You've worked hard to get where you are, not only must you show it with your actions but also with your exterior: what your body language is saying about you and yes, the way you dress as well.
What statement do you want to portray with the clothes that you choose to wear? Do you want to be seen as an intelligent person, creative, athletic, professional or maybe very simplistic?
To learn more about wardrobe advice feel free to check out the following links:
A book recommended by Cristiane Cardoso 'Sexy Girls: How Hot is Too Hot? by Hayley DiMarco' is a must read. The book explains the pressure of the media and how sometimes women lose their own personalities with the choice of clothing they make in their day-to-day lives.