The cycle of being emotional

1

min read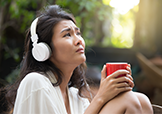 It starts with being a little sentimental then it trickles on down.
Being in the habit of practicing your faith can help you tremendously if you find yourself in this situation. If you use your faith, it will awaken emotions of peace and happiness.
When someone is too sentimental, circumstances around them can control their attitude and emotions – no one wants to be a slave to this problem.
Cristiane Cardoso, on her blog, says that when you panic it can set off sadness, which sets off anxiety. So now imagine all emotions coming and circling at the same time. How can you stop this?
According to counselor Renato Cardoso, a way to get rid of this problem is to behave as if the anger, sadness or any emotion is not even there. Search for reasons to be happy and grateful and present them to your sadness.
"Don't be a slave to feelings, be their master." – Renato Cardoso.
To learn more about how to deal with negative emotions you can visit the links below: