7 Signs your love life is under a Curse

2

min read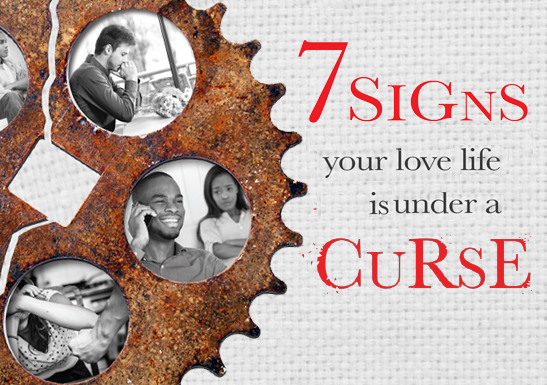 How to know if i m cursed?
Has your emotional life been in trouble for a long time? Nothing that you seem to help to change your situation? Do you really believe you can be cursed? Check out some signs of being cursed:
1. You have been single for many years
You don't understand what's wrong, why no one wants to commit to you. It's almost as if you had a contagious disease or being cursed.
2. Multiple divorces
You stopped believing in marriage. Each time you divorce, it's like a piece of you and your dreams die. Those are signs of being cursed
3. You have been cheated on multiple times
You don't believe people can be faithful. You don't believe in anyone or anything anymore. You try to protect yourself from being hurt by hurting first.
4. Loneliness
Even when you are surrounded by people, you feel lonely and depressed. You have the feeling that no one loves or understands you.
5. You have been rejected by others
You are rejected by your family, friends, at work, wherever you go. It's as if you are carrying a sign on your face. You're shunned.
6. Loveless marriage
When dating, you cared for each other. But as soon as you said "I do," your partner became this cold person you can't recognize. This is a strong indication for you to fight and check for signs of being cursed
7. Abusive relationships
Abuse has followed you from one relationship to another. It seems that you attract or are attracted to the wrong people.
Due to weather conditions, The Love School event-Breaking Curses in Houston, Texas, has been postponed until further notice.
To learn more about breaking curses in your love life, feel free to contact us or visit The Universal Church nearest you.
* Ask about our Love Therapy services on Thursdays. Not all locations offer this service, please contact your nearest Universal Church.
<!–
Our Houston location will have a one day only Love School event of Breaking Curses where you will learn how to break all curses that are affecting your love life.
Feel free to register at The Love School – Breaking Curses or contact us for more information at 1(888) 691-2291.
* There is no charge to attend this event, and free childcare will be available.
THE LOVE SCHOOL EVENT – BREAKING CURSES
Address: 7075 SOUTHWEST FWY. HOUSTON, TX 77074
Date: SUNDAY, SEPTEMBER 3RD AT 10 AM
Get the answers and help you need in your love life with international best-selling authors and relationship experts Renato and Cris Cardoso.
–>