IS YOUR LOVE LIFE TRAPPED IN A VICIOUS CYCLE?

3

min read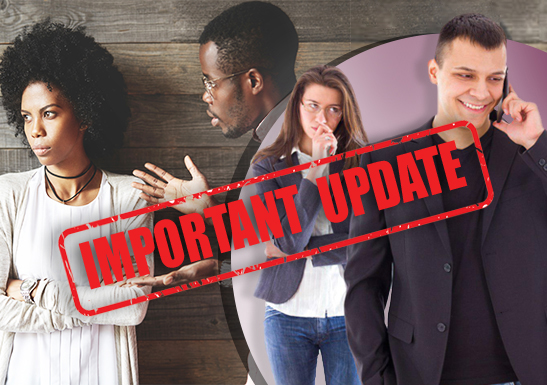 Dear Houstonians, our city has suffered great losses over the last few days. Maybe you–or someone close to you–was directly affected by the flood. Count on us for help, get in touch today. We know that together and above all with the help of God, we will be able to get this city back on its feet.
With this in mind, we believe that it is best to cancel this event until further notice.
Houston, don't give up, you've got this!
The Universal Church
If you're in a relationship, why make jealousy, arguments, betrayal, and separation the new norm, when you can have a successful and fulfilling love life?
When a couple is happy, it seems that out of nowhere people around them are almost positive that their happiness won't last, to the point they start thinking about scenarios of what will soon go wrong in their relationship.
It can start by a simple question from a close co-worker, friend or even a family member: "How do you know where Jane is? Who was John speaking with? Are you sure they only speak at work?" And the list goes on.
Renato and Cris Cardoso will show you what to do in a situation when you are being spiritually attacked yet you're not aware.
They've been traveling the globe helping couples to find the answers to their relationship problems and helping singles to finally find love. Best-selling authors, TV hosts, relationship and family experts, Renato and Cris will help you find the way out to this love maze of mess.
Read the signs below and find out if there has been a curse in your love life and relationships.
Generational curse – you are not happy in any of your relationships, you have the same problems of your parents or grandparents.
You often attract married people – it is almost as if there was an invisible magnet that frequently draws you into the drama of love triangles.
You are betrayed in most if not all your relationships – when you think you found someone that will make you happy, that person betrays you.
You love but you are not loved in return – you gave your all in your relationships to sooner or later find out you were not loved but rejected.
You come close but are not able to get married – you cannot find someone, and when you do, you are left waiting.
You suffer from extreme jealousy – this leads to the end of your relationships because either you or your partner cannot tolerate it anymore.
Traumas, complexes, and low self-esteem plague your relationships – you curse yourself with negative words.
Fear of a serious relationship – you were betrayed, abused, went through failed relationships, and today you live chained to the past.
Constant arguments – you miss each other when you are separated, but when together, you fight over anything and everything.
Sudden separation – you live under the threat of separation and divorce, your relationships end all of a sudden.
A curse is a spoken word, envy, witchcraft, and hatred. These are just a few of the tools used to spread curses. However, you can be set free from any spiritual curse if you have inner healing, spiritual protection, and guidance in order to avoid being vulnerable to any spiritual attack.
Due to weather conditions, The Love School event-Breaking Curses in Houston, Texas, has been postponed until further notice.
To learn more about breaking curses in your love life, feel free to contact us or visit The Universal Church nearest you.
* Ask about our Love Therapy services on Thursdays. Not all locations offer this service, please contact your nearest Universal Church.