Sunday of the "Blessed be"

2

min read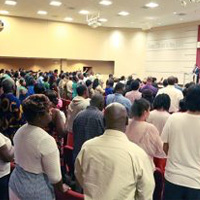 On Sunday, August the 13th, The Universal Church in Houston, Texas, held a powerful event: Sunday of the "Blessed be." All the Assistants, Pastors and Bishop Bira laid their hands on everyone and the crown of the holy anointing of God was passed onto them for those who believe. Bishop Bira explained how people who are doing the Fast of Daniel can prepare themselves for the next 21 days. Congregants of the church shared their testimonies of how their lives were before and after they started to attend The Universal Church. It was more than just attending a service, they learned how to use their faith, and their lives have been transformed since then.
Testimony of a military family:
Janet and Tiffany are a mother and daughter who had a curse of death on her family. A mother who shared her grief to losing six family members, and a daughter with depression and suicidal thoughts since the age of eight. Tiffany (daughter) and Janet (mother) shared their testimony and how they got rid of a family curse that has been with them for many years.
-Tiffany "I'm free, I'm happy. I started to go to the Friday services, Wednesday and Sunday services. I no longer have suicidal thoughts. I'm at peace with what happened, now the holy spirit has shown us what we were under. And I have a lot to live for."
– Janet "I feel the same way, and I want to grow old and see all the good things God will bring to my only daughter. I am free!"
Father Ricky and son Rick:
– Rick Jr. " I use to be a drug dealer and sold heroin before coming to the church. I even sold heroin to my own father. That was my darkest moment for me. I hit rock bottom, and I didn't know what else to do."
"My grandmother took me to The Universal Church and through my faith, I was set free from my addiction, insomnia, and spiritual attacks. Now, I can sleep in peace, I have my own job and no longer sell drugs."
Stephanie's Testimonial:
Stephanie was involved in a car wreck in 1996 and was left with head aches since then. On April 2016 she was hospitalized and discovered that she was not able to move and had to use a walker. Stephanie has been attending The Universal Church for six months. She learned how to use her faith and is now able to walk without her walker.
Douglas O. Testimonial
Douglas O. from New York was introduced to drugs around the age of thirteen and soon became addicted. Douglas has been attending The Universal Church for eight years now and has also been attending the Monday services for finances. He is now free of addiction and is currently a successful entrepreneur.