Day of Peace Event in Namibia

2

min read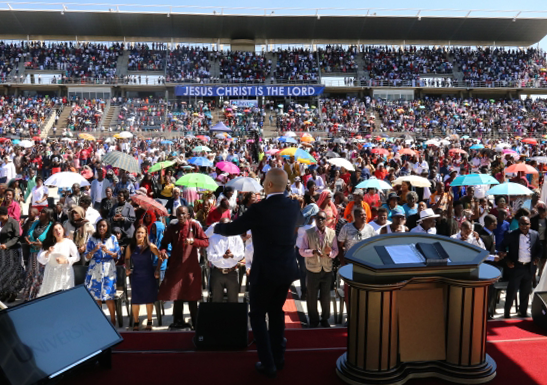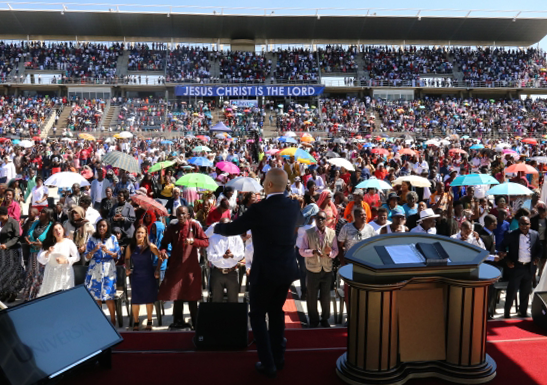 On April 20th, more than 20 thousand people gathered at the Sam Nujoma Stadium in Namibia to participate in the Day of Peace Event, which was hosted by The Universal Church in the country.
People from various parts of the country arrived one day before the event to guarantee their seats. The stadium became completely full.
Bishop Alaor Passos, who takes care of the work of evangelism of The Universal Church in Namibia, prayed and spoke at this great gathering of faith. Through the prayers and by hearing the Word of Faith, all who attended were able to receive the real peace that comes from God.
"But He was wounded for our transgressions, He was bruised for our iniquities; the chastisement for our peace was upon Him, and by His stripes we are healed." (Isaiah 53:5)
"Many are chastised by illnesses, poverty, family problems, but there is a promise that says that the Lord Jesus already received this chastisement in our place so that peace may enter into our lives. Therefore, let's go to the foot of the cross to take possession of this promise and leave this place with this peace inside of us," said the bishop.
Breaking traditional barriers
The primary focus of the Universal Church is to win souls for the God's Kingdom, and for his reason, its doors are open every day for those who desire to have a transformation in life. In this special event for peace, The Universal Church also received with much gladness members of the Himba Tribe. They are an indigenous people in Africa that still maintain their original traditions. The tribe migrated from Angola to Namibia at the beginning of the 16th century. At that time, they were known as the Hereros. During the end of the 19th century, this group was divided into the Hereros and the Himbas.
For more the 30 years, Himba Tribe leader Mutaa-Uombanda Kapika suffered from intense abdominal pains, and after participating in a meeting at The Universal Chruch, he was healed. Marveled at what happened, he decided to surrender his life into God's hands through the baptism in Waters. He also authorized all the members of the tribe who suffer from any sickness to participate in the meetings at the church. Today, approximately 50 Himbas congregate in The Universal Church.
Take a look at the pictures of the event below. Did you like this post? Leave your comment and share with your family and friends.