Swallowing your pride

2

min read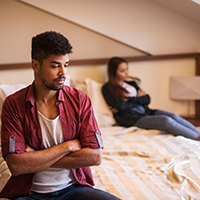 When a man is physically or spiritually lost, he asks for direction and guidance. When a man makes mistakes, he accepts them and seeks advice if needed. Sounds reasonable, right? However, unfortunately, not all men think and behave like this. The reason for this is pride.
Both men and women can be affected by pride, but it is usually men who fall victim to this attitude. The idea that a man would be considered incompetent or that he would lose his masculinity if he asked for help in his love life, family life, etc., provides one of the reasons why men cannot reach out. However, a study conducted by two behavioral scientists proves that this is not true. Alison Wood Brooks and Francesca Gino, say that: "When you ask for advice, people do not think less of you, they actually think you're smarter."* These are reassuring words for every man who holds back.
In fact, in extreme situations, pride can damage a man's relationship with others. Yes, it is this behavior that can cause arguments between a man and his spouse if he does not accept his mistakes or listen to others. The same stubborn attitude can affect a man's relationship with colleagues, resulting in an unfriendly working environment or inefficient work being produced. An intelligent man would want to avoid these scenarios at all costs.
If you want to make better decisions in your everyday life, then why don't you join the IntelliMen Project now? Each task you complete will give you an insight into being an intelligent man. There are 53 challenges in total, but what man does not like a challenge?
*Source: http://www.hbs.edu/faculty/ Publication%20Files/Advice%20 Seeking_59ad2c42-54d6-4b32-8517- a99eeae0a45c.pdf