After suffering with anorexia, English blogger helps followers sharing the experience

2

min read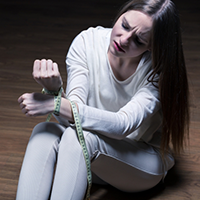 The English blogger Megan Crabbe, now 22 years old, has already suffered with anorexia (the distorted view of one's body) and came to weigh less than 30 pounds at the age of 15. Today, healthy and with 249 thousand followers in her social medias, she chose to take advantage of the chance to speak about the problem that led her to extreme thinness instead of using her fame to show the beauty standards imposed by society.
Megan says that her mission is to ensure that her followers love their own bodies and perceive that they are amazing. With photos of before and after, she warns: "Today, I know that no matter how many pounds I gain, nothing important will change about me. I still have the same heart, the same mind, the same passion, the same love. The scale will never be able to say anything about me that really matters. It does not have the power to define me, only I do."
To be well with yourself
Anorexia affects many people in the world and can lead to fatal consequences and is proof that anything in extreme does us no good. In everything, there must be a balance.
Do not rely on what others say or think about you, nor follow the dictatorship of the "perfect" body imposed by the media. "When everyone speaks the same thing, everyone dresses the same way, everyone follows the same reference, all of a sudden, without realizing it, you are doing the same as everyone else. And you know what that gives us? Dissatisfaction," warns the novelist Cristiane Cardoso.
To feel good, a person needs, above all, to love God and themselves. So, invest in an intelligent faith, which grants you courage to face the obstacles and difficulties.
If you need help to deal with a problem, participate in a meeting of the Universal Church. Click here and find the address nearest to your home.