"I refuse to be served by a black person."

2

min read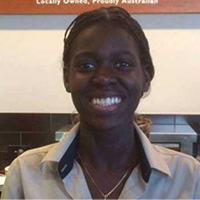 One more case
of racism has been reported recently. Josie Ajak (Photo on the right) is a young Sudanese, African-American woman who has lived in Australia since the age of 8 years old and works as an attendant in a coffee shop/café. She was surprised when a customer refused to be served by her.
In an interview with a local broadcaster, Josie explained that the woman looked at her and said: "I refuse to be served by a black person. Can you call someone who is white?" The attendant asked the lady to step aside, before informing a work colleague about what happened. The woman would have waited for 5 minutes before leaving the store.
And one other detail drew attention to the story: the lady who committed the act of racism is a wheelchair user.
After the episode, Jade Arevalo, a friend of Josie, shared a story on her social networks and started the campaign #buyacoffeefromjosie. The publication has received thousands of likes and reposts, including on the page of the cafeteria and other stores.
No one is better than the other
the Bible says:
"But not so among you; on the contrary, he who is greatest among you, let him be as the younger, and he who governs as he who serves. For who is greater, he who sits at the table, or he who serves? Is it not he who sits at the table? Yet I am among you as the One who serves." Luke 22.26-27
"Yet I am among you as the One who serves," was what the Lord Jesus said to his disciples in the Last Supper.
Josie was the attendant, and which should serve; the wheelchair was the client and was on the table. Jesus was at the table, but even as the Son of God, at that moment, as a man on earth, he did not make himself better than anyone.
And you, how have you acted, even without noticing? Maybe that woman in a wheelchair has already been so humiliated that she can no longer love, doesn't realize that she is not capable of loving. Maybe. But what you have suffered cannot be transformed into hatred. Attend a meeting at a Universal Church that is closest to your home and learn that our pain can also be transformed into love, and love for others. Find and address here.