Rahab – breaking the silence

2

min read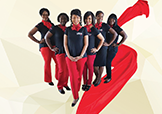 The Rahab Project began on December 25th, 2011. Writer, speaker, and counselor, Cristiane Cardoso, head-started this initiative, having in mind the various problems that have afflicted women in our society. She thought of a group that could embrace, providing counseling and support directed to the emotional needs of its participants.
Rahab was a heroine mentioned in the Bible. She was a prostitute, rejected by society and used by men; she knew suffering very well. She found out that her city, Jericho, would be invaded by the Hebrews, the people of God, and that there was no way out. When she came across the Hebrew spies, she showed her courage and strength, and instead of turning them in, she hid them in spite of her life being at risk. Because of this attitude, she became a prominent figure in the story of humanity and a part of the genealogy of Jesus Christ. We learn from her that regardless of the circumstances and the suffering that we face, we can change our story through the choices we make.
The Rahab Group counts with the help of carefully selected volunteers. It has the goal of helping women that carry traumas caused by emotional, sexual or physical abuse, or by various problems that have somehow impeded them of being free and enjoying healthy relationships.
In the Rahab Group meetings you will find:
• Practical guidance to deal with abuse
• Healing from the past
• Courage and strength to build your future
• Inspiration to connect with God
• Personal counseling
• Faith to believe in yourself like never before!
A Rahab learns to love herself, let the past go, and more than anything, she's a fighter to see that her life becomes an example of victory, not victimhood. If you are going through the struggles of an abusive relationship, if abuse played a part in your past, the Rahab Group is for you. Join us!
The Rahab Group meets every second Sunday of the month at The Universal Church. For the specific days and times of the meeting in your area, feel free to contact us or visit one of our locations near you.