What goes on in the mind of an addict?

4

min read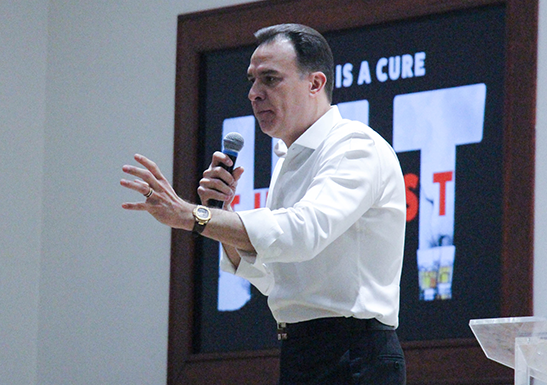 What goes on in the mind of an addict? What triggers the harmful urge they feel even against their will? Many are those who take medication to live with a suppressed drug addiction. For years and years, they submit themselves to treatments, and they are in and out of clinics. Nevertheless, sooner or later, the mind of an addict relapse for the despair of their loved ones. It comes to the point that not even their dearest ones believe in a recovery any longer.
On a Saturday, as we were inviting families in the community for The Last Hit Event that took place September 11, 2016, we came across someone that for nearly a decade received treatments to suppress his addiction to heroin and crack. He spent a great deal of his life taking medications and undergoing treatments, and he had no hope of being healed. According to him, he heard all that he could hear, and just wanted to avoid the withdrawal symptoms; that's why he faithfully took methadone, a drug used in rehab clinics, to keep him going.
Programs in countries such as England give daily doses of heroin to severe addicts as a way of treating the addiction. This treatment has kept some addicts off the streets, but not off the drug dependency. As it is said, with these approaches, we are digging one hole to fill another that just gets disproportionally bigger with time.
The mind of an addict
According to Dr. Formigoni, speaker of The Last Hit Event that counted with the presence of 1800 people, a constant thought troubles the mind of the addicted person: "Just one more, just a little bit more, then you stop." He mentioned how many people judge the addicted person because they promise to change, to make efforts, but at the end, they end up worse than before. Their loved ones take them for liars. During the event, Dr. Formigoni explained that they are not lying. These are sincere promises, however, the person does not have the strength to overcome the thoughts and urges that plague them. For any health agency and professional, addiction is considered an incurable disease that worsens with time.
So how to explain the thousands that overcame addiction through The Last Hit sessions around the world? How to explain Dr. Formigoni's recovery, who now helps others to achieve the same results? Their recovery took place without daily drug injections, methadone treatment, relapses or withdrawal symptoms.
This is a result of understanding that every addiction has at its root a spiritual problem that affects the mind and life of the person. By treating this root, the person finds the strength to overcome. Treating the problem from its root is what has given The Last Hit unprecedented success that no other program has ever had.
The Universal Church had the pleasure of serving as a venue for this free event that blessed the New York community for the second time. Attendees came from various New York and New Jersey cities and even other states such as Pensylvania and Massachusetts. And, we will continue to host this free treatment every Sunday at 3 pm at our National Headquarters – 1091 Fulton Street, Brooklyn, NY. It will be headed by Specialist Alexandre Teixeira, who has been helping addicts for the past 3 years following the same successful method used by Dr. Formigoni. He is also an ex-addict who knows well what goes through the mind of an addict. He has been free from addiction for over 20 years, he leads a happy life and marriage and devotes himself to helping others achieve their freedom from substance abuse or any other addiction.
Darryl Roberson was among the crowd that attended the event on September 11. It was his first time coming to an event like this. Just the night before he gave into drinking, but that did not stop him from coming to the event. He felt God was calling him for a change in his life. He makes plans to attend the sessions every Sunday at 3pm to be free from addiction.
Debra Ellis from Brooklyn, NY, came representing her son and niece, who have an addiction to marijuana and alcohol respectively. She will also be attending the sessions on Sundays at 3pm in order to help them.
Take a look at the pictures below of The Last Hit Event in New York: