Video of a woman blowing the smoke of marijuana in the face of a child shocks the internet

2

min read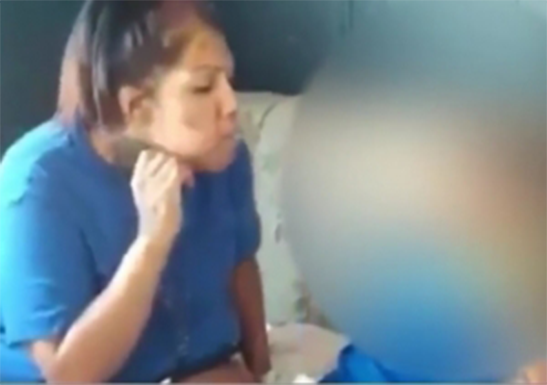 An impactful video has been circulating through social networks since the 20th of August. In the footage, a man is seen lighting up a joint of marijuana. Then, the drug passes from hand to hand between three more people on site – two women and the person who was filming the scene – until you come to a woman who brings the substance and blows toward the face of a boy who was with them, apparently with 3 or 4 years of age.
Not satisfied, she comes very close and tries to blow the rest of the smoke inside the mouth of the child.
Watch the women blowing smoke in your face:
This event took place in the city of Fort Hall, Idaho USA. According to local police, the two women have been arrested for putting a child at risk, and the other two adults of the video already have a signed warrant for their arrest.
The dangers of addiction
This video makes it clear that when a person is dominated by the effect of the addiction, regardless of what he, she is capable of anything, there are no limits, even to the point of harming a defenseless child, also trying to get them into addictions.
Unfortunately, drugs, alcohol, and other substances are presented to a person by someone close, such as friends and family. Many accept and become addicted, triggering a cycle of destruction.
But it is important to know that there is a way out for this: faith. With God, any addiction can be cured.
The Last Hit Event
Many are those who arrive desperate for not knowing what else to do to change their situation. This event is for those who struggle with any addiction regardless of how long they had it or how deep they are in it: gambling, alcohol, drugs, nicotine, the internet and social networks, sex, pornography, etc.
You will learn how to be free from it once and for all. In this event, you will find respect, the support, and guidance that you need. Perhaps no one believes in you anymore, not even yourself. It does not matter. We believe in you! Take the first step to come, and we will take care of the rest. Family and friends of addicts can also attend, even if the person who is addicted refuses to come.
Dr. Formigoni will be coming for the second time in Brooklyn, New York, on September 11th. All are welcome to attend regardless of background or religion. There is no charge to attend, and free childcare will be provided during the event. Hurry up and make arrangements. Do not miss this great opportunity.