Three new bishops are consecrated

6

min read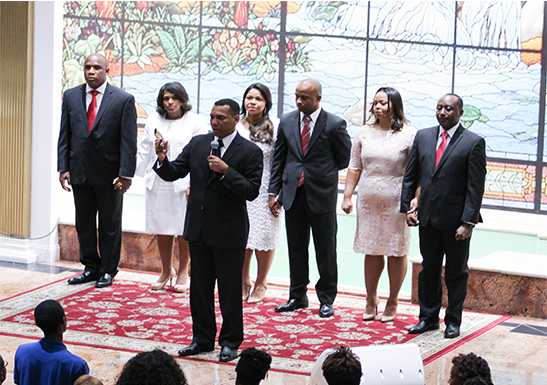 Once, a man named Edmund Burke said the famous quote, "The only thing necessary for the triumph of evil is that good men do nothing," which is not the case of The Universal Church here in the USA.
The first Sunday of August was remarkable for all those who attended the event, especially for pastors Rohan Taylor, Ricardo Teixeira, and Alberto Menezes, who were consecrated as bishops. These men along with their wives have chosen to abandon their personal lives for the sake of savings others. With this renewing milestone, their responsibilities have increased, and so has the anointing they received to bless the people.
According to Bishop Bira, who conducted the ceremony, "This was a remarkable day for The Universal Church here in the USA because we have now 3 new bishops, which represent 3 new leaders that will lead God's people to His Kingdom. So, the Work of God will surely advance with this consecration. When King David was consecrated, he became the leader of Israel. Whenever in The Universal Church a bishop is consecrated, it means that a new kingdom is raised to save many souls. The Kingdom of God is advancing; the people of God received new servants to lead them."
"The Spirit of the Lord is upon Me, Because He has anointed Me to preach the gospel to the poor; He has sent Me to heal the brokenhearted,
to proclaim liberty to the captives and recovery of sight to the blind, to set at liberty those who are oppressed" (Luke 4:18)
Being born already 80% dead with his umbilical chord around his neck, Bishop Taylor began his life with no clear chances of surviving. By the age of 8, he had already drunk to the point of passing out. From then on, his addictions only increased. At the age of 23, he began having spiritual attacks. He suffered from sleepless nights, with the feeling of being held down and suffocated.
Only after a year of his mother inviting him did Bishop Taylor finally decide to go to The Universal Church. "I used to criticize the church, saying that the church was a thief, that it was an obeah church, and I used to believe that no church should open every day," he recalls.
From the first day he went, he never stopped. His life changed completely from that day forward. He was delivered from the spiritual attacks and received his healing. Today, he has been serving God on the Altar for 17 years, being married to his wife Kerry for 16 years. He began his ministry in Jamaica and had been serving in Canada and many states in the USA.
"First of all, I just want to let everyone know that nothing is impossible for them. I was even thinking about where God took me from, that I was supposed to be dead; even from birth, I wasn't meant to make it. I am today evidence that anyone can make it no matter how far down they are, of how much they are suffering. They can make it; they can achieve anything in life. As long as we are ready to do the will of God, He is going to do more in and through our lives. And, it is my opportunity to do more for him." (Bp. Taylor)
Growing up, Bishop Albert Menezes became addicted to alcohol and cigarettes, also leading a life of rebelliousness. He finally came to the church at the age of 16, after his mother made various Chains of Prayer for him. Not long after, he was free from the addictions and his old way of life. From that point on, the desire to save souls grew in him, and at the age of 17, he was called to be a pastor and has served in places such as South Africa and the United States.
Bishop Albert has been serving God on the Altar for 13 years, being married for 11 years to his wife, Glaucia. He mentioned that his greatest struggle was adapting to the different cultures and lifestyles of South Africa and the USA because he did not know how to speak English at all.
"The secret to remaining faithful is to stay on the Altar; there is no other place like the Altar. When you are on the Altar, you are secure. If you leave the Altar, you lose all the security." – Bishop Albert declared mentioning that doing the will of God is the source of one's spiritual strength.
In regards to his consecration, he replied, "When a pastor is consecrated as a bishop, he does not receive anything. Who indeed is receiving the blessing is the people. When a pastor is anointed, it's like God is counting on him to bless the people even more. So the fact is, the one receiving this blessing will be the people of the church." (Bp Albert)
Bishop Ricardo Teixeira came from a broken home, full of addictions, misery, and constant fights. He arrived at the church where he and his family used their faith and overcame their problems. He then surrendered his life to God and dedicated himself to serving God in the ministry. In 2009, while serving in South Africa, there was a turn of events in the life of then Pastor Ricardo and his family. He caught a bacteria in his stomach, and his daughter had a critical case of anemia. The treatment required a lot of caution with food and strong medicines and regular exams as well.
"I was very worried because I had no idea how serious the situation was. The doctor said that if we hadn't returned to Brazil, he would have developed cancer, which led me to be revolted. And to my surprise, my daughter Rebeca was also with a critical case of anemia. I was revolted with that situation because we serve a living God, and we could not stop because the work of God needed us. So I decided to use my intelligent faith. I began to treat by anointing them with Holy Oil and participating in the healing services on Tuesdays at the Cathedral of Rio de Janeiro with Rebeca. In a short time after that, they were healed." (Bp Ricardo's wife, Helen)
Bishop Ricardo has now been in the Work of God for 22 years, married to his wife Helen for 19. He is currently in the Cathedral in Brooklyn, New York, continuing to serve, now healthy and with full strength. He says, "Our greatest pleasure is to serve our God, to receive from Him one more talent (the anointing), and realize that He accepted everything that we have done until now and that we are on the right path. 'If anyone serves Me, let him follow Me; and where I am, there My servant will be also. If anyone serves Me, him My Father will honor.' (John 12:26)"