What's the secret to maintain trust in God?

3

min read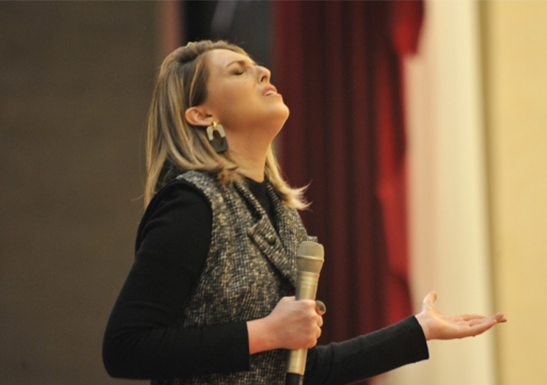 On July 9, the Godllywood Self-help meeting was held in the Temple of Solomon, with women from different parts of São Paulo.
Writer and presenter Cristiane Cardoso led the meeting next to Fatima Bassini, who is responsible for Godllywood in the Country, also the wife of Bishop Clodomir Santos, who is responsible for the work of the Universal church in Brazil. Together, they revealed one more characteristic of an excellent spirit: trust.
To speak of this virtue is to speak of Abraham, and Fatima used the passage in Romans to speak of the secret of the patriarch. "who, contrary to hope, in hope believed, so that he became the father of many nations, according to what was spoken, "So shall your descendants be."And not being weak in faith, he did not consider his own body, already dead (since he was about a hundred years old), and the deadness of Sarah's womb." Romans 4.18-19
"Believe when all the circumstances say that it's not going to be okay, this is trust," said Fatima. But what is the secret for Abraham to not have weakened in faith and believe that God would fulfill what He had promised? How did he manage? The answer is simple: Abraham simply ignored all the situations around him. Even though he was already old and had a wife who was barren, he knew that the promise made by God would be fulfilled.
You must understand that the unfavorable circumstances arouse fear and doubt if you look at them. The person can even believe that God can do what they expect, but when it's time to give credit to this word, they get discouraged . "His promise never fails, what fails is our trust. He promised, but you have to trust," said Fatima.
You only trust those who you know. Therefore, it is necessary to know God. And even those who say they know who He is, by failing to keep your daily contact with the Creator, they can have their confidence shattered. It is not enough just to have attitudes of faith, it is necessary to maintain the certainty that no matter how long or how difficult a situation is, everything is working for your good and that promise will be fulfilled because faithful is the One who promised. "Sometimes what God asks in a situation is not an attitude of faith, but his trust," said Cristiane Cardoso.
She concluded the meeting by explaining that, by being certain that God would fulfill His promise, was when Abraham would see them being fulfilled one by one and with that, his life became a reference of God's plenitude. "Your life has to serve God, so people can give credit to your words. What does your life say about God?", she questioned.
Each month, a secret to a life of excellence has been revealed in the monthly Godllywood Self-Help meetings. Come join us for one more secret on Saturday August 20, 2016, at 1091 Fulton St, Brooklyn, NY. Don't miss out!
Share this message on your social networks.